BY NDAHI MARAMA, Maiduguri
No fewer than 18 soldiers were also feared dead, including a technical staff of the National Emergency Management Agency (NEMA) John Iliya have been killed in an ambush by Boko Haram in boarder communities of Damasak, Gudumbali and Niger Republic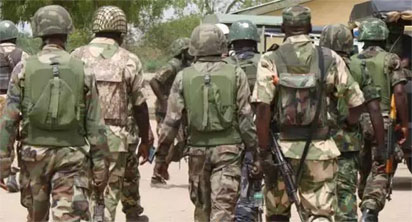 Damasak and Gudumbali are Local Government Areas of Borno state that shares international border with Niger where lots of insurgents are still occupying some territories.
Sources said, "Boko Haram ambushed troops while digging trenches at Damasak, headquarter of Mobbar Local Government in the northern part of Borno on Wednesday at about 5pm." Three military sources said on Friday as the telecommunication network in those areas have been destroyed making it difficult to access information.
An excavator operator sent from the National Emergency Management Agency (NEMA) was also killed in the process, the sources revealed on condition of anonymity.
The NEMA staff was the one operating the excavator used in digging trenches around military base and some volatile areas in the town as security measure against Boko Haram invasion, a staff of the agency not authorised to speak told The Sun.
Army Spokesman, Brig. Gen Texas Chukwu could not confirm the incident. He said he was yet to receive information about the attack.
NEMA in a statmemt yesterday said it mourned the death of its staff killed in the attack.
"The Director General of the National Emergency Management Agency, Engr. Mustapha Maihaja and the management staff have been thrown into mourning following a death of a staff who was killed by Boko Haram yesterday in Damasak, Borno state," the agency Head, Media and Public relations, Sani Datti said in the statement.
He gave the name of the late staff as John Iliya "an excavator operator attached to the military."
"The DG has dispatched a team to Maiduguri to facilitate the return of his remains to the family," he disclosed.
Damasak, located at the Nigeria-Niger border, is about 190 kilometres to Maiduguri, Borno's capital. The incident was not immediately known in Maiduguri due to breakdown of telecommunication facilities in the area.