By Samuel Oyadongha
ORUBIRI- THE serene Orubiri community of Opokuma clan in Kolokuma-Opokuma Local Government Area of Bayelsa State came alive weekend following the official flag-off of Empowerment/Business Set-up – Starter pack distribution for Presidential Amnesty delegates in the state.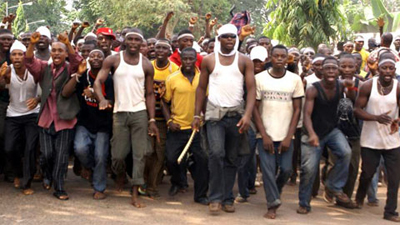 No fewer than 150 ex-agitators trained in various trades were empowered with starter packs, according to their skills by the Coordinator, Presidential Amnesty Programme, PAP, Prof. Charles Dokubo at the colourful event which attracted traditional rulers, community elders and youth groups from the state.
Niger-Delta Voice finding revealed that the presentation of the entrepreneur starter packs was the last phase in the process of Amnesty training, an indication that the youths of the region are not lazy but only need opportunities.
The starter pack, made up of power generating sets, deep freezers and plastic tanks among others, is meant to establish beneficiaries as employers of labour and reduce cases of unemployment in their various communities.
Speaking at the event which was turned into a mini carnival by the elated youths, Prof. Dokubo assured that the programme would be reviewed to refocus on its mandate and programmes in order to produce the desired results.
Lamenting that the initiative had not produced expected results in the past as many of the over 20,000 ex-militants trained by the Amnesty office since inception eight years ago, still remained unemployed, he called for the judicious use of the equipment provided by the Federal Government, noting that the gesture was a bold step in the concerted efforts by government to deepen peace, safety and security in the communities.
Dokubo, who had earlier visited the Bayelsa State Deputy Governor, Rear Admiral Gboribiogha John Jonah (rtd) in Yenagoa said the people of the Niger-Delta would not have been suffering if the scheme had lived up to expectations, adding that his regime studied the failures in implementations of the programme and took a decision to refocus the scheme.
He said: "The amnesty programme has taken a new turn. Amnesty has been here for a very long time, but those of us from this state have not gained from it effectively. If we have, most of our people will not be suffering."
New dawn beckons
Dokubo said he came to the state to officially launch a new dawn in the implementation of the scheme to enable people in communities benefit from it and that his administration was focusing on the reintegration phase of the programme just as President Muhammadu Buhari was interested in the scheme reaching rural communities of the Niger-Delta.
"The people of the Niger- Delta for a long time have been marginalised, ostracised and oppressed. But now we have come to a position where we can focus. I believe that this system has changed. The objective of the government clearly states that they want to nurse back communities to health in such a way that they will be part of the bigger picture.