By Destiny Eseaga
The Chief Executive, Custodian Mind Smith and Convener of the Legacy Awards, Mr. Dingba Peter has said that the planned Legacy Awards which is  holding on World Teachers' Day in October is aimed at  connecting  1000 professionals from different fields with their teachers who had made profound impact in their individual lives,  to show appreciation and reward  teachers
Also, 200 longest serving public teachers drawn from across the country would be rewarded with a cash prize of N100,000 each, alongside other gift items on same day.
Dingba explained that the Legacy Award   seeks to recognize and celebrate those teachers who went through the laborious process of teaching and have ultimately contributed to the making of children into the professionals they are today, saying that those former-student-now-turned-professionals would return to reward those special teachers on the 5th of October, a day set aside to honour teachers worldwide.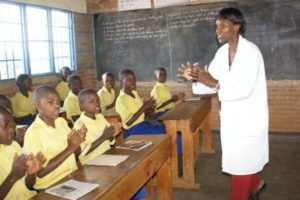 ''Imagine the emotions that come with reconnecting with that special teacher whom you lost contact with 20 to 30 years ago! It is THE LEGACY AWARDS 2018." Dingba said.
He noted that his organisation would also reward the different efforts and investments made by state governments in education, stressing that the criteria being the observable and verifiable change in state's education since the current administration assumed power and that  each award will be based on certain identified specific criterion as provided by an independent international research firm.
Speaking at a press conference in Lagos, Mr. Joel Aworinde, representing the  Honourable Minister of Women Affairs, Mrs. Aisha Alhassan,  Dingba Peter confirmed that professionals and guests expected at the event include state governors, state first ladies, federal ministers, captains of industry, multinationals and stakeholders.
He asaid:  "Mind Smith has taken the arduous responsibility of locating and fetching those teachers from all parts of the federation.
Professionals fill the search form, identifying and giving details of their favourite teachers (as much as they remember) and the firm will deploy personnel to locate the identified teachers across the entire country and bring such teachers to the Legacy Awards. In case of teacher's demise, the firm will bring the teacher's son or daughter to the award, reminding us that the work of a teacher outlives the teacher and benefits generations to come."
Subscribe for latest Videos