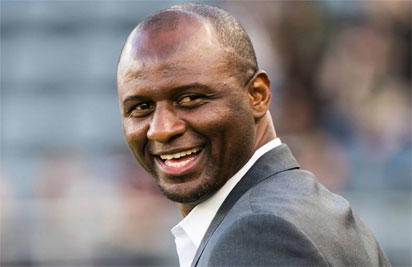 Vieira
Vieira
As Ligue 1 prepares to kick off in the glow of France's summer triumph, Nice will be one of the clubs that can boast a World Cup winner, but theirs is of an older vintage.
Patrick Vieira, a member of the 1998 squad that put the first star on Les Bleus' shirts, has succeeded Lucien Favre as manager.
Vieira, who arrived in June from New York City FC of Major League Soccer, is the third member of the class of '98 to manage in Ligue 1 after World Cup winning coach Didier Deschamps, who was at Monaco and Marseille, and Laurent Blanc, who had spells at Bordeaux and Paris Saint-Germain.
Once again, Nice president Jean-Pierre Rivere has shown his knack for recruiting big names either on the bench, where Vieira follows Claude Puel and Favre or on the field where Hatem Ben Arfa, Wesley Sneijder and Mario Balotelli have all played for the club.
Rivere sees Vieira as, above all, the man to build a team based on attractive football and youthful talent.
"We did not recruit a name, nor a world champion, nor did we take a gamble," said Rivere after hiring Vieira. "Our project is very clear and projects are run by men. The goal is to keep the club growing, and after 20 minutes of talking with Patrick, I told him: 'You are exactly what we are looking for'."
At 42, the challenge is daunting for the native of Dakar who played 107 times for France but had long left Ligue 1 when he won the World Cup. At 19 he moved to Serie A and played for both Milan clubs, Juventus and Arsenal in England before retiring as a player with Manchester City in 2011. He spent two seasons coaching City's under-21 team before moving to the club's New York cousin.
"I did not think twice before signing for Nice," said Vieira, who started his career along the Riviera at Cannes in 1994. "I have confidence in my ability to manage."
Though he is smiling and open, Vieira is unbending on his basic principals.
"He is tolerant but knows how to pull you back into line when necessary. He puts the team before any other consideration," veteran Nice defender Christophe Jallet told AFP. "A healthy mentality."
Balotelli found this out when he arrived at camp late after a transfer failed to materialise. He had to train alone to catch up physically before joining the rest of the squad this week.
"Everything is based on group cohesion," said midfielder Pierre Lees-Melou. "In the morning, we breakfast together at 07:30 am. We train from 9.00 to 11.00. Then there is treatment and lunch at the club,"
Vieira knows what he wants.
"It's important for me to play forward, in a style that expresses the talent of the players," he said.
Now it is up to those players to put that into practice.