By Gbenga Olarinoye, Osogbo.
A Renowned televangelist and Senior Pastor of Kingsway International Christian Centre, Pastor Matthew Ashimolowo, Tuesday faulted the federal government claim that those perpetrating killings in some Northern states are not from Libya.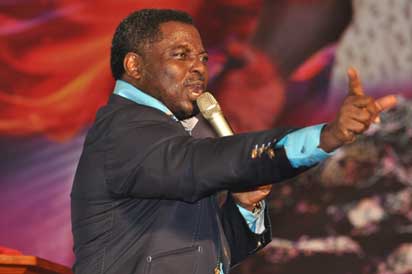 Speaking in Osogbo at a programme organised by Pentecostal Fellowship of Nigeria (PFN), Osun state chapter, Pastor Ashimolowo said perpetrators of the killings could not have successfully moved from far Northern states to those near the Southern Nigeria like Benue and Taraba to carry out their heinous act without being noticed.
His words: "On the security situation in the country. I would have to be a bit strong and say it from the Christian perspective.
"As a 66-year-old Nigerian, born in the North, raised in the South, I beg to differ with anyone who says that the destruction of Plateau, Benue and Kaduna states is carried out by Arabs from Libya. How did they cross Sokoto, Kano, Jigawa and all these Islamic states without being noticed?"
On the state of the economy, he advised leaders to utilize abundance natural resources available in the country for the benefit of Nigerians, saying "Let them give attention to what helps the masses instead of a lot of infighting and arguments."
He added: "I know we are pursuing and fighting corruption. I have said this three years ago. I think this government should do what is called the Paretto principle, spend 20% of your time on your past pursuing those evils, but spend 80% on building your picture. Because no man focusses on his rear view mirror and moves fast. If you keep looking back, your speed would be slow.
"Corruption you would think started with the current government. No. I have a book written by Peter Enahoro on how to be a Nigerian. It was written in 1961, it is the description of today.
"We are not celebrating corruption, but we are saying we need better roads, electricity, economy, education and we need the engineering system of Nigeria to work and good environment for agriculture to thrive. Once we have all these, Nigeria would work.
"I go to Africa and around the world, Ghana complained of power outage and that is once in three months for only one hour. Other Africa nations, there is no power outage.
"We can achieve constant power supply, we have natural gas. Nigeria has the second largest deposit of natural gas on earth, 32 trillion. It's been burning away for the past 50 years because for you to reach crude oil, you have to first remove the natural gas. Let's harness it, sell and use it to run our electricity. If somebody is not running it, let's expose them."