By Yemi Olu
Track and Filed
The British Championships took place last week, and one of the highlights of the two-day competition was Lorraine Ugen's Championship Record-breaking jump of 7.05m to win the women's Long Jump event.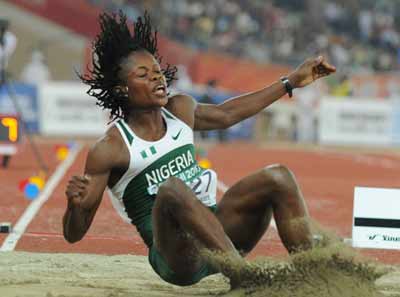 This was Ugen's first time of soaring over the 7m mark. Also, her new mark puts her at No.1 on the global standings for the 2018 Athletics season as she is the only woman to have gone past the 7m barrier this year.
Nigeria's best Long jumper in recent years, Ese Brume, has been very selective with her competitions this year. However, she demonstrated her good form while competing at the Jamaica Invitational in May where she leapt to a Championship Record of 6.82m, which puts her at No.11 in the world this year.
It is interesting to note that four years ago at the Commonwealth Games in Glasgow, Brume won Gold in the event with a leap of 6.56m while Ugen finished 5th with a mark of 6.39m. However, four years down the line, the tables seem to have turned, not necessarily because Ugen is more talented. However, she represents a country that finds a way of maximizing its athletes' potential.
UK Sport has a funding programme where it "strategically invests National Lottery and Exchequer income to maximise the performance of UK athletes in the Olympic and Paralympic Games and the global events which precede them.
"Investment decisions are made on a four year basis wherever possible to cover a complete Olympic or Paralympic cycle, but are focused on an eight year performance development model. Success is measured by the medals won, the number of medallists developed, and the quality of the systems and processes in place to find and support the nation's most promising future champions."
The athletes that are directly funded by this scheme are divided into three performance categories:
Band A – Medallists at Olympic Games or Senior World Championships or gold medallists at Paralympic Games or Senior World Championships.
Band B – a minimum of a top 8 finish at Olympic Games or Senior World Championships or medallists at Paralympic Games or Senior World Championships.
Band C – Likely to be major championship performers and those who demonstrate the capacity to achieve a medal result at World or Olympic level within four years but flexibility given to individual sports to set their own criteria.
Ugen has been a beneficiary of this scheme for a few years now and currently belongs to the 'Olympic Podium' cadre, which is the highest category of British Athletics' World Class Performance Programmes. The funding in the form of an Athlete Performance Award (APA), is paid directly to the athletes and contributes to their living and sporting costs.
After finishing 5th at the Glasgow Games in 2014, Ugen also placed 5th at the World Championships in Beijing the following year with a mark of 6.85m. It was in 2016 that Brume came close to this distance after setting a Personal Best of 6.83m in Akure. That same year, Ugen went on to jump a Personal Best of 6.93m to win a Bronze medal at the IAAF World Indoor Championships in Birmingham.
The pair would later meet at the Rio 2016 Olympics and this time around, it was Brume who impressed as she was Nigeria's best individual performer in Track and Field at the Games where she finished 5th in the women's Long Jump final with a distance of 6.81m; Ugen finished a distant 11th. At the European Indoors in March 2017, Ugen bettered her mark to 6.97m to win Silver and later that year when the duo met again at the World Championships in London, it was Ugen who secured a 5th place finish, while Brume failed to qualify for the final.
At this year's Commonwealth Games in Gold Coast, Ugen failed to make the podium despite coming as the favourite. She placed 4th with a jump of 6.69m but won Gold as a member of England's 4x100m team that finished ahead of Jamaica and Nigeria. Brume on the other hand, wasn't even invited to the Nigerian team and also didn't take part in the Commonwealth Games Trials, and her absence may not be unconnected to the fact that she feels let down by a country hasn't really shown any interest in her progress.
The women's Long Jump event in Gold Coast was won by Canada's Christabel Nettey with a distance of 6.84m. Her winning mark is 1cm above Brume's Personal Best. Interestingly, Nettey finished 3rd to Brume in Glasgow, but now has a Personal Best of 6.99m, which was set one year after Glasgow. She is currently ranked No.4 in the world.
Nigeria will be banking on Brume to win a third consecutive continental title at the African Championships next month in Asaba. However, what plans do the Athletics Federation of Nigeria (AFN) and the country as a whole, have for Brume going forward? What stops Nigeria from investing in Brume ahead of next month's World Championships or the 2020 Olympic Games?
Ironically, Chioma Ajunwa remains Africa's only Olympic Gold medallist (male or female) in the Long Jump (7.12m). Blessing Okagbare came close, winning a Long Jump Silver at the 2008 Olympics (6.91m), and another Silver at the 2013 World Championships (6.99m). Last year, South Africa's Luvo Manyonga became the first African man to win the Long Jump at the World Championships. It will not be a crime for Nigeria to produce the continent's first female World Champion, and second Olympic Champion, in the Long Jump.