Mixed sentiment to trail equity market this week
Stories by Peter Egwuatu
THE equity trading on the Nigerian Stock Exchange, NSE, showed that the equities market fell Week-on-Week (W-o-W) as the NSE All Share Index, ASI dipped by 1.7 percent, dragging the Year to Date, YtD return lower to -1.61 percent, on renewed profit taking activities and weak demand despite the kick off of the Pension multi-fund structure in the week. There were twenty-seven (27) gainers and forty-three (43) losers last week.
Mutual Benefit Assurance emerged the top gainer in the market last week with a 21.26 percent price advancement to settle at N0.45. Other top gainers in the week were Multi Verse (+20.00 percent), Unity Bank (+14.43 percent), UPL (+9.44 percent) and Royal Exchange (+9.09 percent). On the flip side, Forte Oil was the worst performing stock last week, shedding 19.79 percent of its value to close at N26.35. Other losers in the week were Cornerstone Insuarnce (-17.14 percent), MRS Oil (-16.64 percent), and Honeywell Flour Mills and (-11.79 per cent).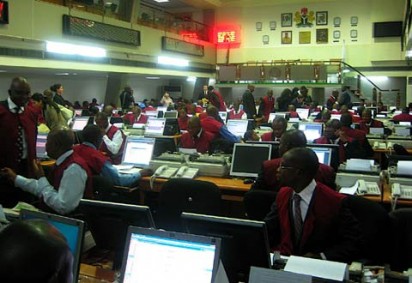 Meanwhile, mixed sentiment by investors is expected to trail the equity market on the Nigerian Stock Exchange, NSE this week following the bearish run that characterised the market the previous week. Also, the Pension Fund Administrators, PFAs and fund managers may equally take position on the low prices of stocks that they expect to turn in good earnings in the first half, HI'18 results of companies.
Analysts at Cowry Asset Management Limited have posited that: "This week, we expect the local bourse to close flat in the green territory as Pension administrators and other fund managers are expected to take advantage of the lower prices of companies with good fundamentals."
In their forecast for the week, analysts at Vetiva Capital Management, a Lagos based investment firm said: "With market sentiment staying negative at week close after a week of bearish trading, we expect the tepid sentiment to filter into the market at week open."
On the stock to watch, Vetiva mentioned Prestige Assurance, saying: "Prestige has shed 21 percent over the last ten sessions, including 545 bases points, bps today. The stock currently trades at a price of  N0.52 and has returned 4 percent Year to Date, YTD, below the insurance sector's 9 per YTD performance."
In its forecast, Cordros Capital, a Lagos based investment house said: "In the short to medium term, sideways trading is likely to remain the theme in the absence of a near-term positive trigger. However, macroeconomic fundamentals remain strong and supportive of gains in the long term."
During the week, the NSE suspended trading on eight companies for defaulting filing rules. The companies suspended include; African Alliance Insurance, Cornerstone Insurance, Universal Insurance Company, RT Briscoe, Royal Exchange, STACO Insurance, Standard Alliance Insurance and Veritas Kapital Assurance Plc.