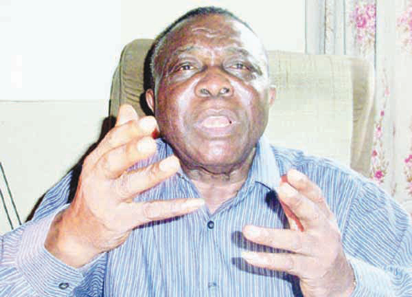 •Guy Ikokwu
By Clifford Ndujihe
PRESIDENT of the Pan-Ndigbo National Forum, PNF, and Second Republic politician, Chief Guy Ikokwu, has commended the South-East governors for resolving to stop movement of cattle in the zone, saying the move will help sustain peace in the area.

Rising from an emergency meeting in Enugu on Sunday, the governors said: "South East Governors have noticed increased challenges in the movement of herdsmen from one state and region to another with resultant effect of massive destruction of farmland with attendant clashes with farmers. South-East Governors have been spending huge funds in settling farmers whose farms and crops are destroyed. We, therefore, request for an emergency meeting in South-East with federal security chiefs, farmers and herdsmen to stop the movement and prevent the clashes."
Saluting the governors for the move, Chief Ikokwu, who is a member of the Ime-Obi (inner caucus) of Ohanaeze said: "From what happened in the Middle-Belt, Nigerians are aware that today, open grazing, unlike in the past, is a precursor for militants who are well armed with AK-47 rifles to start destruction of our communities and killings without our security forces restraining them. South-East is a very law-abiding and quiet part of Nigeria. We don't want a situation of utter recklessness and intimidation of our people in order to provide the so called colonies for those with absolute impunity to dominate our villages and establish an autocratic system of government, which our people are not used to.
Igbos, easterners and Niger Deltans have been resolutely democratic and republican in spirit and would like this nation to be urgently restructured in a way like all the Nigerian governors stated last week that they should be the chief security officers of their states. State police should be immediately approved by the National Assembly and President Muhammadu Buhari so that Nigeria will immediately transit into true federalism with adequate devolution of powers to the states and the zones of Nigeria."