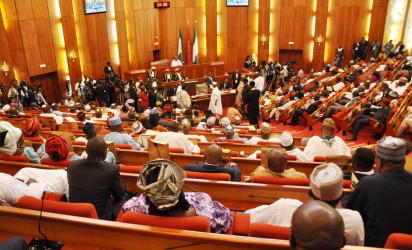 Senate Chamber
Senate Chamber
By Henry Umoru
ABUJA—THE Senate has begun a probe into alleged irregularities in the ongoing oil and gas leases renewal.
According to the Senate, the development  was at the moment  denying the Federal Government of $10 bilion excess revenues.
Subsequently, the Upper Chamber has summoned  the Minister of State for Petroleum Resources, Dr. Ibe Kachichukwu and the Director, Department of Petroleum Resources, DPR, Mr. Mordecai Ladan, to appear before it to clarify their alleged roles in the deal.
The Senate also mandated its Committee on Petroleum Resources (Upstream) to carry out a holistic investigation into the issues as well as identify appropriate measures to correct the alleged anomalies and report back to it.
Resolution of the Senate yesterday, was sequel to a motion by the Chairman, Senate Committee on Petroleum, Upstream, Senator Omotayo Alasoadura (APC Ondo Central) and three others on the  irregularities in the ongoing oil and gas lease renewal and massive loss of government revenue.
Senator Alasoadura in the motion noted that the irregularities being perpetrated by the Ministry of State for Petroleum Resources and DPR in the ongoing lease renewal process was capable of denying government revenue in excess of $10b as a result of illegal discounts and rebates in the process of lease renewal.
According to him, the DPR "Has wilfully and deliberately refused to provide the Senate Committee on Petroleum Resources Upstream with relevant information and data related in the ongoing lease renewal."
He disclosed that the committee had since December 2017 been inundated with plethora of petitions and complaints and had on its own observed that there are multiplicity of irregularities surrounding the ongoing renewal of oil and gas leases being undertaken by the minister and DPR.
Senator Alasoadura noted that under the provision of extant laws, failure to pay royalties was a ground for revocation of leases and a legal barrier to renewal of applicable leases.
He also informed that there was a subsisting legal framework and due process mandated by extant law for the renewal of leases that are due for renewal  but wondered why the minister and DPR "have deliberately, willfully and brazenly decided to depart from subsisting legal framework and due process."