By Dayo Johnson, Akure
Retiring Justice Nelson Sola Adeyanju  of Ondo High Court  wants the budget of  the judiciary to be paid directly to  heads of courts in line with the provision of the Constitution.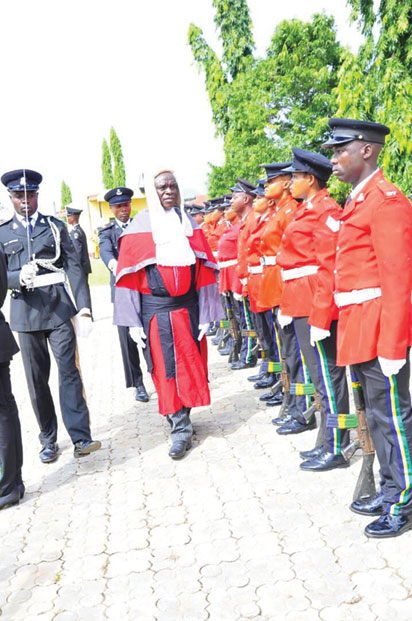 Speaking during a valedictory service held for him at the state High Court, Adeyanju decried  a situation where retired justices had to live in penury despite their service to the  country.
He served in the state judiciary for 12 years.
Adeyanju asked the National Judicial Council (NJC) not  to  be interested only in the performance of judges  but  also  in their welfare and comfort.
"The present system whereby the Federal Government pays the salaries and allowances of states' judges but leaves  the payment of their pension and gratuity to  state governments is most incongruous. I appeal to the NJC to take steps towards the taking over of the payment of pensions and gratuities of judges in addition to the payment of their salaries and allowances."
Adeyanju appealed to Ondo State Government to ensure the passage into law the Bill in the House of Assembly on the establishment of a Pension Department for judges at the Judicial Service Commission.
According to him, the system whereby judges are subjected to dehumanizing treatment in the processing and receiving of their pensions and gratuities is not the best.
"The judicial is the third 'arm' not 'department' of government. The judiciary's allocation/entitlement as budgeted should be released as a matter of course", he said.
" The provision of Section 121(3) of the Constitution of the Federal Republic of Nigeria, 1999 (as amended), which requires that any amount due to the credit of the judiciary in the Consolidated  Revenue of the state be paid directly to the heads of courts concerned should be implemented in all the states of the federation.
"A  situation where the heads of courts go cap in hand to the States' Executives should be avoided".
The Chief Judge of the state, Justice Olanrewaju Akeredolu, said the retirement of  Adeyanju was not because he was incapable of discharging his duties but by constitutional provision that a judicial officer may retire at 65.
The  state Attorney General and Commissioner for Justice, Mr Kola Olawoye, described the retired jurist, who served in different judicial divisions in the state, as one of the best brains in the state judiciary who would be missed by his colleagues and members of the Nigerian Bar Association (NBA).