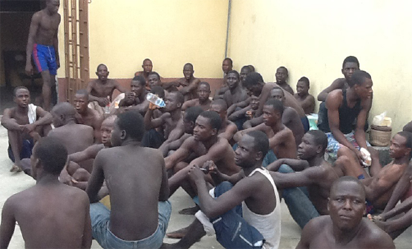 Youths in Nigerian prisons…more than 70 per cent are awaiting trial
Lagos – Gov. Akinwunmi Ambode of Lagos State on Friday called for the reform of Nigeria Prison Service (NPS) to improve present condition of prisons across the country.
Ambode made this call when he visited the Senate Committee on Interior on Retreat For the Review of Amendment to Nigeria Prison Act in Lagos.

The Senate committee on Interior was chaired by Senator Andy Uba representing Anambra North in the National Assembly.
" The reformation of Nigeria Prison is necessary especially the decongestion of the prison.
" Some inmates are suffering as a result of not being able to pay their fine.
" We will set up a committee in Lagos that will go round all the prison formations, " Gov Ambode said.
The Gov. commended the committee for their hard work in making laws that would benefit the people and constituents to the growth of the country .
Ambode was represented by the Deputy Gov. of Lagos state, Dr Idiat Adebule
The committee on interior on retreat for the review of Amendment to the prison Act was scheduled for between July 20 and July 21. ((NAN).