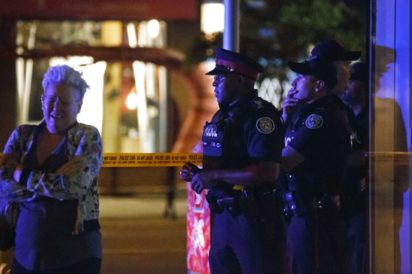 Toronto police were seeking to determine a motive on Monday after a 29-year-old man opened fire with a handgun on restaurant goers and pedestrians in a busy neighborhood of Canada's largest city overnight, killing two people and wounding 13.
The suspect, who has not been identified, was found dead in a nearby alley after an exchange of gunfire with police.
Video footage posted by Canadian media showed a man clad in black walking on the sidewalk in Toronto's Greektown neighborhood and suddenly pulling out a handgun and shooting into a restaurant.
Toronto Police Chief Mark Saunders said an 18-year-old woman and a 10-year-old girl were killed and 13 people — aged 10 to 59 — wounded, some seriously.
"At this stage of the investigation we do not know why this has happened yet," Saunders said.
"It's way too early to rule out anything," the police chief said at a press conference. "Absolutely everything is open right now."
Saunders said police would not release the gunman's name at this point because of an internal probe into the exchange of gunfire with the police.
Detective Sergeant Terry Browne said police were seeking a warrant to carry out a search of the residence of the suspected gunman.
Witnesses said the shooting rampage lasted just a few minutes and sparked panic in the popular neighborhood of bars and restaurants.
"It was a very rapid and fluid incident that unfolded very quickly," Browne said.
Andrew Mantzios told The Globe and Mail newspaper that he was having coffee with friends when shots rang out around 10:00 pm.
Mantzios said he saw a man with a "horrible expression on his face" shooting at a crowd of people waiting to cross the street.
"And then a lady tried to run and she fell down," he said. "He turned around and shot her point blank, two or three times."
"Believe me, I've never seen anything like that," he said. "I am still in shock."
– 'Cowardly act of violence' –
"Our entire city has been shocked by this cowardly act of violence," Toronto Mayor John Tory said. "Gun violence in any part of our city is horrible and completely unacceptable."
"I promise all of the people of Toronto, but most importantly those directly affected by this tragedy, that we will all be relentless in getting answers about why this senseless attack happened," Tory said.
Witnesses reported hearing at least 20 shots during the rampage on Danforth Avenue, Greektown's main drag.
Police officers located the man on a cross street "and an exchange of gunfire took place," police said.
"The man fled the area and was located deceased on Danforth Avenue," police said.
"There was a lot of shots," John Tulloch, a resident who was out for a walk at the time, told the Globe and Mail. "There'd be a pause, we heard more shooting, and then a pause and then more shooting.
"There must've been 20, 30 shots, altogether. It was a lot. We just ran," he said.
– People screamed, fled –
Jody Steinhauer told CBC News she was at a restaurant with her family when she heard what sounded like 10 to 15 blasts of firecrackers.
She said she was told to run to the back of the restaurant.
"We started to hear people scream out front," Steinhauer told the broadcaster.
Ontario's new Premier Doug Ford called it a "horrific act of gun violence" and said his heart went out to the victims.
The shooting rampage comes amid concern over a surge of shootings in Canada's largest metropolis.
Canada traditionally has relatively low levels of gun violence, particularly compared with the neighboring United States.
Tory, the mayor, said the shooting is "evidence of a gun problem" in Toronto.
"That leads to another discussion, 'Why does anyone in this city need to have gun at all?'" he said.
According to police figures, as of July 14 there were 220 shootings in Toronto this year with 27 fatalities. There were 196 shootings with 17 deaths in 2017.
Last week, Toronto police began implementing a "gun violence reduction plan." That includes having 200 extra officers on shifts in specific neighborhoods between the hours of 7:00 pm and 3:00 am — when most shootings occur.
The Greektown shooting comes three months after the city was shaken by the deaths of 10 people killed by a man with an apparent grudge against women who drove into pedestrians on a street in Toronto's north end.
AFP