•Makurdi airport a military facility ,says NAF spokesman, AVM Adesanya
ABUJA—There was drama at the Nnamdi Azikiwe International Airport, Abuja, yesterday, as leaders  under the aegis of Southern and Middle Belt Leaders Forum, had their flight to Makurdi allegedly aborted by the Nigerian Air Force, which denied the flight landing rights in the Benue State capital.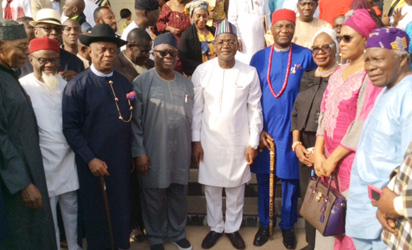 The leaders were to travel to Makurdi to participate in the Middle Belt conference which held yesterday.
It was learned that after waiting for several hours to get clearance from  Makurdi Airport Commandant, Lt. Col. A. Audu, for an approved landing permit for the aircraft to no avail, the leaders aborted their flight.
They didn't apply for landing permit — NAF
Director of Public Information, Nigerian Air Force, NAF, Air Vice Marshal Tokunbo Adesanya, who confirmed the development last night, told Vanguard on phone that the leaders did not apply for landing permit. He said NAF reserved the right to determine who should come into Makurdi Airport and those who should not come.
According to him, Makurdi Airport is a military facility and not a civil one.
Addressing journalists, yesterday, in Abuja on the incident, President General of Ohanaeze Ndigbo, Chief John Nnia Nwodo, who described the action of the government as an infringement on their fundamental human rights as enshrined in the Constitution, however, decried what they described as serious violation of the fundamental human rights of its members to freely associate, travel, and express themselves.
According to the leaders, the aircraft chartered by them to join other leaders in Makurdi was grounded on the premise that the landing permit at Makurdi airport was not approved.
The leaders, who condemned the action, warned that the nation was gradually sliding into chaos, anarchy and military form of government.
Also at the press briefing which took place at the Asokoro residence of South South Leader and former Federal Commissioner for Information, Chief Edwin Clark, were Chief Ayo Adebanjo; Chief Chukwuemeka Ezeife; Chief Supo Shonibare; Yinka Odumakin, Dr. Alfred Mulade; Col. Tony Nyiam (retd); Francis Doukpola; Ambassador Ozor; General C.R. Eherika, among others.
Our ordeal — Nwodo
Narrating their ordeal at the Airport, Nwodo explained that members and leaders of the forum from the Southern part of Nigeria had gathered at the Nnamdi Azikiwe international airport, Abuja, to board a chartered aircraft to Makurdi to be part of the Middle Belt Summit on restructuring, but was first told that the weather in Makurdi was not good enough for landing.
He explained further that after waiting for some hours, another reason the aircraft would not be allowed to fly was given to them, this time, that the Makurdi Airport Commandant, Lt. Col. A. Audu, had demanded to see an approved landing permit for the aircraft.
The Ohanaeze President-General, who explained that the permit was immediately sent by fax to Makurdi, however, lamented that no word was heard for several hours from the commandant, adding that information was later passed to them that "for security reasons, civilian aircraft were no longer allowed to fly into Makurdi airport."
Speaking further, Nwodo, who noted that each unit of the Southern and Middlebelt Forum had held rallies across the country to drum support for their agitations for restructuring and better Nigeria in South-West, held in Ibadan; South East which took place in Awka and that of South South which was held in Yenagoa, the Bayelsa State capital, before yesterday's rally which took place in Makurdi.
Nwodo said:  "We have called you to express our anger and disgust at what happened to us today. We the people of Southern Nigeria and the Middle Belt have a forum called the Southern and Middle Belt Leadership Forum. Our major identity is our agreement that the only way to push our country forward and prevent a looming disaster, that is about to befall us, economically and politically, is to to restructure the Nigerian federation.
"Each of the component units of this organization has held a summit of their leaders expressing their support for this policy. The first was held in the South West in the ancient city of Ibadan, where all of us attended. The next was held in Yenegoa in the South-South region of Nigeria; all of us were there, including the people of the Middle Belt.
"The next was held in Awka where the South East expressed its support for the restructuring of the federation. The last of the zones to hold its rally is the rally holding today (yesterday) in Makurdi by the Middle Belt.
"This is not the second time we have gone to Makurdi on behalf of the Southern and Middle Belt Leadership Forum. When there were killings in Benue, with 100 people buried the same day, we went on behalf of this forum. We took a chartered aircraft and there was no difficulty whatsoever in landing in Makurdi or obtaining permission to take off from Abuja.
Breach of  human rights
"We arrived in time for our flight today at 12 noon, the airport commandant disallowed us from flying and said we needed to go and get permission to land in Makurdi. We consider this fundamental infringement on our democratic rights of freedom of movement and freedom of association.
"There is nothing in our law precluding us from moving to wherever we like, from holding an opinion, in so far as we do not breach any law in Nigeria. What has happened to us today expresses a lot of doom for fundamental human rights in our country, for the free exchange of ideas as unavoidable instruments of achieving growth and development of our polity.
"We deprecate the treatment that we were given today, which treatment prevented us from physically joining our brethren in the Middle Belt in ..a common view, which we all hold, a very patriotic view, which we think will be the only way to guarantee the future of our country.
"Please publicise this for many reasons. One, the teeming crowd that you saw on television in the Middle Belt are our brethren who showed us solidarity in other zonal summits. The fact that we were barred from showing them this solidarity is bound to hurt them.
"Through this press conference, we want to express our solidarity with them. We want them to know that we are one and the same in our views of the restructuring of the Federation.
"Secondly, to deprecate these new tendencies, not too long ago, the President signed into law an Executive Order which gives him the right to seize peoples assets. This is almost like a military government. And we think that this is an intrusion into the principles of separation of powers in our country.
"It is the responsibility of the legislature to make law, of the executive to implement the law and the judiciary to interpret the law. I do not think that Section 5 of the Constitution gives the President such Executive authority to make laws. The right to property is a fundamental right in a democracy. It cannot be expropriated here without a decision of the court.
"What has happened to us today shows a continuing tendency to slide into a dictatorship in a democratic government. That is condemnable."
It's sabotage — Clark
Reacting yesterday, Chief Clark described it as a sabotage by those who do not believe in restructuring to sabotage the rally.
He said: "No group of persons, no one ethnic group is superior to the other. The people say that they are Middle Belt and some people say that they are not, are you the one to tell them who they are? Everybody in Nigeria has an identity, your identity is not superior to my identity. No ethnic nationality is superior to mine.
"It was sabotage, they knew that we were going there to discuss restructuring, those who don't believe in it decided to sabotage it."
Also speaking on the development yesterday, former National Democratic Coalition, NADECO, chieftain, Air Commodore Dan Suleiman, retd, who publicly put a call to the leaders while addressing the gathering at IBB Square in Makurdi, Benue State capital, cautioned that the leaders of the Middle Belt would not be cowed, promising that the region would continue to work together to ensure safety and victory for its people.
The retired senior Air Force officer said:  "Despite challenges confronting the region, the Middle-Belt will remain united and continue to march forward to greatness.
"There is need for Nigeria to be restructured to give way to fair sharing of resources because justice must be delivered to the people of the regions.
"Middle Belters are not cowards. We shall march unto victory. Forward ever, backward never. We all must liberate the Middle Belt. This current nonsense must not be allowed to continue. We must strategize for a common front and we will get there."
Ishaku, Adebanjo react
Speaking, Governor Darius Ishaku, who attended the event, appreciated the effort of the National Assembly in initiating a bill to establish state and local government police.
He faulted the provisions of the 1999 constitution which was drawn from USA, noting that the US Constitution provides for local and state police, wondering why it was deliberately not incorporated in Nigerian Constitution.
He sued for accelerated attention and passage of the bill, stressing that if passed and subsequently signed into law, it would go a long way to address the incessant killings in the country, particularly in the Middle-Belt.
He said:   "Killing people is another form of corruption and the worst of it all. When one steals one million, he is prosecuted but when some persons kill innocent people in their sleep, they are allowed to walk free.
"This must stop. Nigeria is a great country but it is wasting away. Every state in Nigeria is a potential country of its own.''
Despite their absence at the rally, the southern leaders made their speech through a phone call and contributed to the theme of the conference: 'Restructuring Nigeria and Reawakening".
The Afenifere leader, Chief Ayo Adebanjo, said people would resist any attempt to stop activities of Middle Belt forum.
He noted that in Nigeria, no ethnic group was subordinate to another, adding "we are all one in this fight, we want a situation where everyone will be equal. Restructuring is long overdue, we are all one, nobody can separate us.''
Former Minister of Defence, General Theophilus Danjuma, retd, who was represented by General Zamani Lekwot, retd, decried the mindless killings in Middle Belt but said he would not be silent and see Nigeria break up.
"Some of us fought hard to keep the country together, many died while defending their fatherland, we will not allow these sacrifices   to be in vain,'' he added.
In his speech, Benue State governor, Samuel Ortom, reiterated his call for the arrest of leaders of Miyetti Allah Kautal Hore who he said openly  vowed to unleash terror on the Benue valley and eventually carried out their threat.
He said:   "Which hate speech is more than what the Miyetti Allah Kautal Hore gave and they are not arrested?
"We all need each other, big ethnic groups need small ethnic groups, vice versa, we are all key stakeholders in the Nigeria project."
Ortom, who also threw his weight behind restructuring of Nigeria, charged Nigerians to remain committed to a one Nigeria.
Resolutions
Resolutions reached at the end of the meeting, which were read out by the legal adviser of the forum, Mr. Mark Jack, include the restructuring of the country, creation of two more states in the eastern and middle belt regions of the country.
Others are endorsement of the recommendation of the 2014 confab to address the noticeable imbalances in the country.
The gathering also recommended a presidential system of government that makes provision for three vice presidents.