By Prince Okafor
Constant pipeline breakages, uncertainties in security of assets amongst other issues in the Niger Delta oil fields have increased oil and gas companies' average shut down days from 45 to 160 days.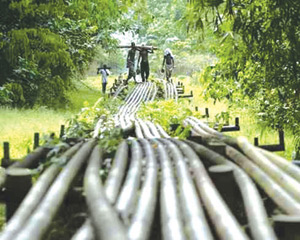 A former Director at the Department of Petroleum Resources (DPR), Mr. Osten Olorunsola, made this disclosure during a roundtable meeting on the Petroleum Industry Bill (PIB) organised by the Nigeria Natural Resource Charter (NNRC) and Media Initiative on Transparency in Extractive Industries (MITEI) yesterday in Abuja.
Olorunsola said, "There are operations around the world where you can almost guarantee 330 days for production. You can't do all through the year because you have scheduled maintenance and all that, but usually it is not more than 30 and 45 days, anything more than that is not good.
"In terms of real operational shutdowns, we are seeing something between 80 and 160 days in Nigeria, which is not good. You can imagine being in business and you can't do anything for two years. You have staff and you just pay them salaries for two years, you must be a generous Non Governmental Organisation, NGO.
"There was a time the Trans Forcados oil pipeline was down for two years. In 2018 alone, some trunk lines had been shut down for up to 84 days, thus delaying oil production."
Commenting on the state of the Petroleum Industry Governance Bill, PIGB, he said that the bill has been largely held back by the provisions of Nigeria's constitution on revenue management.
"A lot of things around sharing money in our country are guided by the constitution. You can't write any bill that will override the constitution and this is the issue.
Subscribe for latest Videos