VICE President, Prof. Yemi Osinbajo, will join other stakeholders in the insurance industry at the 2018 National Insurance Conference, NIC, to proffer ways of moving the sector forward.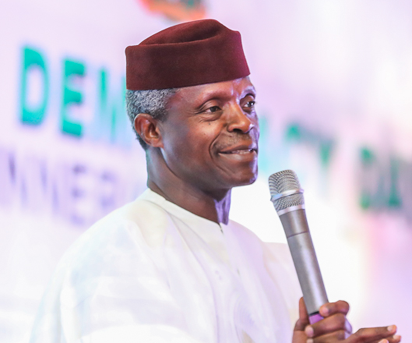 Accordingly, Osinbajo will declare open  the 2018 NIC scheduled to hold next month in Abuja.  The conference will be organised by insurance operators under the auspices of the Insurance Industry Consultative Council (IICC), which is an umbrella body of all arms of the insurance industry.
Chairman, Planning Committee, NIC, Femi Hassan, said that the Minister of Finance, Mrs. Kemi Adeosun, will deliver the Keynote address, while the Commissioner for Insurance, Mohammed Kari will be the chief host.
According to Hassan, the conference, with the theme: Insurance Industry and Financial Inclusion, will parade an array of highly resourceful speakers to do justice to the subject of discourse, adding that the Founder/Chairman, Zenith Bank Plc, Jim Ovia, will discuss the theme paper.
He said that in view of the topical nature of the theme, the Deputy Governor of Central Bank of Nigeria, Miss Aishah Ahmad, (Financial System Stability), is expected to be the Chairman of session while a team of seasoned discussants, notably Mrs. Temitope Akin-Fadeyi, Head, Financial Inclusion Secretariat, Central Bank of Nigeria, and Olu Okunnu of Old Mutual and Dr. Ndubisi Chinedu would lend their voices.
Hassan said that the sub theme: "Leveraging Technology for Financial Inclusion" would be delivered by the Managing Director of SystemSpecs Limited, John Obaro,  while Dr. Segun Aina, Chairman of Fintech Associates will Chair the session.  A paper on  "Road Map for the Insurance Industry" will be presented by George Onekhena, Deputy Commissioner for Finance & Administration, National Insurance Commission.