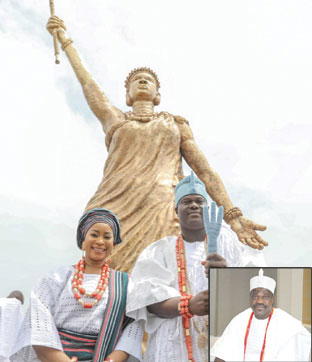 Inset:: Oba Olushola Alao
Inset:: Oba Olushola Alao
By Chris Onuoha
Oba Olushola Alao is the Olugbon of Orileigbon in Ogbomoso, Oyo State. He ascended the throne of his forefathers barely a year ago. The monarch, who was the Chairman at the public presentation of the book, 'Queen Moremi Ajasoro', held at Obafemi Awolowo University OAU, Ile-Ife, spoke to Sunday Vanguard Royalty on Queen Moremi's legacy. The book is dedicated by Ooni Adeyeye Enitan Ogunwusi, Ojaja 11 to the First Lady of Ogun State, Chief (Mrs) Olufunso Amosun.
What was your upbringing like?
My father, Amos Olakunle Alao, was a pastor in a Christ Apostolic Church for 50 years. And I was a chorister in the church for almost 18 years during my growing up years. I lived and studied in the northern part of Nigeria before I relocated to Lagos to run my chain of businesses. When I was called upon by my family members to ascend the throne, I was kind of surprised and said, "Okay. I can, if God permits". Then I told my wife who happens to be a pastor in the Redeemed Church. I asked of her opinion about the throne with all the traditional issues involved.
What did she say?
She was initially hesitant. As a Christian, she said she will pray over it, which she did and approved of it through a divine encounter and revelations. I also consulted my pastors who asked God to intervene on my behalf.
We are all children of God and I believe that we cannot leave the traditional leadership to pagans thinking that it is only meant for idol worshippers and people in darkness. No! Being a traditional king does not mean you are in darkness. The only thing is that there are certain rites they perform to preserve the culture and tradition of our people. It is culturally based and not fetish. Moremi's action turned her into a legend, and there was nothing fetish in it. Coming to become a king, I prayed and called upon God to decide for me. I see it as a calling to serve my people. Obaship is a calling and people should look at it from that angle. The way pastors have a calling, so do traditional rulers have a calling to exercise leadership upon their people. The calling of a king is a lifetime thing to make sure that you bring your people closer to government. It is riddled with programmes in synergy with state and local governments to develop the community. And God has been helping me since I came on the throne. But, you know, when you get to the throne, you begin to have issues and challenges. I see those things as inevitable. I believe that what I am today or doing takes the grace of God who sustains it.
You have been on the throne for more than a year now, how has it been?
July 15, 2018 made it a year since I ascended the throne. In essence, about this time last year, I was endorsed as the Olugbon of Orileigbo in Ogbomosho. I had been a businessman prior to my kingship position. The first thing I did after ascending the throne was to build a befitting palace for the Olugbon. Also I have been trying to work with my community heads to woo investors into our domain. In Ogbomosho area, we are the best cashew producing zone in western Nigeria. We boast of the best in the world. But, unfortunately, there's no facility to process this cash crop. You know this is one of the things that can turn a community or the entire country into an economic hub. Oyo State government is currently talking with us and we are taking steps to actualize the cashew processing project. I have close to 50 community heads in my domain and about 300 villages. What I have to do is to be close to the local and state governments to come up with things that will help in terms of economic development and social infrastructure.
You were the Chairman at the presentation of the book, 'Queen Moremi Ajasoro', dedicated to Mrs Olufunso Amosun by the Ooni of Ife. What's your cultural attachment to the Moremi legacy and how do you define what she stood for?
We all know the history of Moremi and what she actually stood for is what we are propagating in this celebration through the book launch in her name. That's what we want people to replicate and reflect in governance, family, organization and our corporate lives. She stood for peace, justice, liberty, submission, love and selfless service and she was a kind of woman who made a vow at the expense of her life. Moremi's legacy is a strong one in the Yoruba cultural heritage, and Ooni, being the custodian of the Yoruba heritage, is leaving no stone unturned to sustain it as a legacy. Good leadership by example, society that is well organized and peaceful coexistence are the qualities and attributes in her.
Does Mrs Amosun possess these attributes to really deserve the honour?
She is a fantastic woman. It's a well-deserved honour; she merits it. Very loving, humble, she is the type of woman that goes the extra mile to secure justice and also a kind that does things without looking back. These are things we need in a person because injustice and hesitation are some of the challenges facing our social and economic lives today. She took this book launch as her project. She is involved in selfless projects that stand her out. It's a clarion call to women to begin to take the mantle of leadership, governance in the country.
In my speech, I advocated that women should have at least 45% of the positions in government. Women are more compassionate. If you look at the lifestyle of Mrs Amosun, you wouldn't know that she is the First Lady of a state. She is so free with everybody, so humble and does so many things on behalf of the government of Ogun and for her husband the governor. She believes that only God gives and takes power.
As far as I am concerned, men have not done much in terms of governance in this country. About 95% of leadership positions are controlled by men, and at the end of each administration, it turns out a failure. So why don't we try women this time? Queen Moremi did what many men could not do. Mrs Amosun is replicating this legacy.
Can you throw more light on men's failure in governance?
Men have failed this country. Looking at what is going on today, there is the need to restructure the political class. We don't even have a political class. Politics in the country is class-less. And in the area of the economy, what we have is either you are poor or extremely rich.
In this assumed patriarchal society, do you think women will be given the chance to take over leadership?
Why not? It will be a collective effort by those who believe in good governance. By nature, women are very compassionate and very motherly, and I believe that when they apply this attribute to governance, we can achieve success. Moremi Ajasoro had that attribute and her legacy will continue to reflect in the likes of Mrs Amosun. In the country, I have not seen any political party that supported women to emerge as presidential candidate. We have had some deputy governors, but that's not enough. Going by statistical survey, women are more involved in politics at the grassroots than men. The voting ratio proves it, but when they vote and do what is necessary, men assume the leadership. It is not right. Women should also be given a fair share of their political right.
What do you say ahead of the 2019 presidential election?
In my candid opinion, it will be a revolutionary election. It will be a contest between the masses and the elites. I can see it coming. I pray to God to give us the spirit to be united and co-exist. I don't pray for disintegration. The mind-set of the people is changing. By this, I mean mental and psychological revolution. I studied in the northern part of Nigeria and I speak Hausa fluently. Coming from that background, I can approve my daughter to marry from the North if she loves the man who is proposing. I can allow my sons to marry from there too or any other part of Nigeria they might find love. I am a detribalized person. I don't pray for Nigeria to break up. We should live in peace, co-exist. People should avoid hate-speech. We have abused the use of the internet and the social media.
What was applicable ten years ago may not work now. Politics goes beyond a person and the party and crosses ethnic and religious barriers. If you are a woman and people know your integrity and worth, people will vote for you irrespective of your political party. That's the kind of politics we should clamour for. When we appreciate things like this, then we can say we are beginning to move into the advanced stage in the country. Sentiment of religion, ethnicity should be put aside. We have to look for somebody who is credible that will drive us to the promise land. That's my dream for Nigeria.
As a community leader, how do you sensitise your people to key into development projects?
In my capacity as a natural ruler, I counsel my chiefs to consider giving women the opportunity to take up leadership positions. We should treat them with fairness and embrace gender equality.
I am a first class king in Oyo State and the Vice Chairman of Oyo State Council of Obas. I believe we should start seeing things from another direction. We have tried many models which did not serve us well; I want us to use another model, which is giving our women an opportunity to rule. They are honourable by nature and never actively involved in thuggery and election manipulation.