Akure – The Ondo State Government has concluded plans to partner with World Bank and the Federal Government on 'Livestock Productivity and Resilience Project.'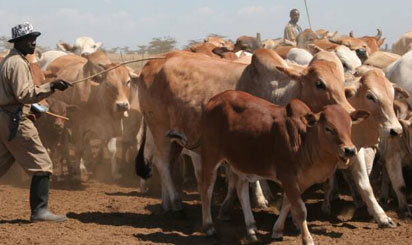 Gov. Oluwarotimi Akeredolu made the disclosure on Tuesday in Akure during a courtesy visit by a delegation of the World Bank team.
The governor, represented by his Deputy, Mr Agboola Ajayi, commended the World Bank for its various intervention programmes in the country.
He said with all the requirements spelt out, the state was ready to pay the counterpart funding and sign a letter to that effect.
Akeredolu said the programme was a good one, which would reduce unemployment as well as improve the economy of the state.
"I must commend World Bank in response to releasing grants to states and even offer soft landing, especially in the time when recession was all over the country.
"I must confess, you have done well for this nation and we must commend you for it. Youth empowerment, Fadama projects and all you have been doing for us, are wonderful," he said.
The Secretary to the State Government (SSG), Mr Ifedayo Abegunde said the letter of the partnership would be signed before the close of work.
He said the government would always give priority to programmes that would benefit the people of the state.
Also speaking with newsmen, the Commissioner for Agriculture, Mr Gboyega Adefarati said the partnership would create job opportunities for over 18,000 youths in the state.
Adefarati said Ondo was part of the 12 states in the country the World Bank considered for the programme.
Leader of the World Bank delegation, Mr Olukayode Taiwo explained that the visit was a preparatory one ahead of signing of the Memorandum of Understanding (MOU).
Taiwo said livestock is a section of agriculture that seemed to have been neglected and the World Bank wanted to revive the sector. (NAN)