•'Whether it will be Sowore or Atiku or Duke or Agbakoba against APC, the future will tell'
•Explains why he met with 'disliked' Obasanjo, others
• Says state police is not the issue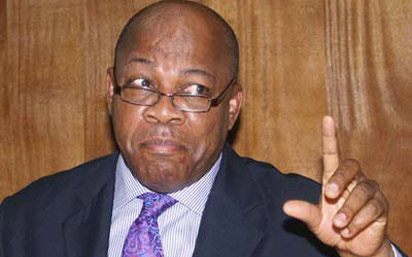 By Chris Onuoha
 Mr Olisa Agbakoba (SAN), an activist, is a former President of the Nigeria Bar Association (NBA). Also one of the conveners of the Nigeria Intervention Movement (NIM), Agbakoba, in this interview, explains why his group is joining forces with others to try to remove the All Progressives Congress (APC) from power at the federal level in 2019. He also speaks on other issues including restructuring and state police.
Reports say you pulled out of the anti-APC alliance engineered by the PDP and the former President Olusegun Obasanjo group. What is the situation now?
We didn't pull out. We simply said that we are not a political party and so we have to be conscious of our neutrality and independence. But we also recognize that we have to work with everybody, whether it is APC, Obasanjo or anyone because the underlining philosophy of the movement of NIM is a better Nigeria.   We can achieve that by including everybody in that discussion. But we did not want to be a political party, so we don't lose our sense of neutrality. That's our philosophy. How can we develop Nigeria, working with everybody to achieve that purpose? But our political agenda is totally separate. It is to contest for power either in 2019 or 2023. Obviously, 2019 might be challenging since we are starting late. So we can then create an alliance which I can say is now on ground, the 'CUPP', which will play a prominent role and we are a principal signatory to the MoU. The political work that we do is to ensure that political power leaves the APC. That's our agenda, because when the APC came in 2015, they promised change and we have not seen any change since then. So we urge Nigerians to exercise their franchise in an extremely careful manner, unless they wish the suffering they are facing now to continue. If they so wish, let them throw their vote away.
Many people think there may be no formidable opposition to President Muhammad Buhari if, eight months to the 2019 elections, no credible candidates have emerged to confront him. What do you think?
That's not true because this question is old. Clearly, as you can see, when people said, 'okay, where is the opposition?', we said, 'alright', and what we did was, and I played a strong role in that, I met with Obasanjo and other top people. We said it doesn't matter how much we dislike each other but in order to achieve the political aim, objective, we got to be united. And to do so, we needed a memorandum of agreement that brings us together to pick just one presidential candidate. Parties can go on and nominate their presidential candidates but eventually, I can assure you, it will be one. Who it will be, whether it will be Sowore, Atiku Abubakar, Donald Duke, Agbakoba or anybody, the future will tell. We have agreed to lock in, because to go our separate ways will spell defeat.
What you are seeing of late is the beginning of the tsunami. Parliamentarians have moved; next week, you will see governors moving, at least seven. I don't need to name names but if you are following the Nigerian political development, you will know the likely states where this will happen. And then, as we go on to parties' conventions and all of that, I think the opposition is strong on ground.
What do you think opposition elements should be doing now ahead of the 2019 polls for Nigerians to take them serious?
First of all is to work together which we have done, second is that we need strength which is now happening as opposition parties get populated. The type of shift we saw in the National Assembly is going to continue. That will give us strength, so that Nigerians will begin to say, 'Oh, at last, here is the party that can face the ruling party'. What we need is political pluralism because, when there are many parties, Nigerians will have a choice, either the opposition or the ruling party. The scenario will force the parties to work in the interest of Nigerians because clearly Nigerians are angry. They are massively upset. It doesn't take a prophet to say that the 2019 presidential election will be won by the candidate Nigerians believe can deliver on his promises. After the PDP in almost 16 years did not fulfil its promises and it wants to come back. It is going to be hard. I personally should say that PDP should rebrand by changing its name. That is my personal belief and I have said so in the context of our political coalition. How that will happen, I don't know because PDP is resisting that change. And if they really want us to succeed, that PDP name needs to be changed, and critical leaders of the party should step aside. We may or may not achieve it. But if we could achieve it, I think we will be on a higher pedestal. If we can't achieve it, then we can brand ourselves in such a way that we can sell the name PDP. So, those are the issues that we are confronted with. The bottom line is APC must leave government.
The latest issue in the polity is the defection of some opposition lawmakers in the National Assembly. What do you make of it?
They are defecting because they are tired and frustrated, because the ruling party has excluded them.   They ruling party is not inclusive. When you win and you remember that you won on the vote of the people, then you must deliver. President Buhari has campaigned three consecutive times and failed, he would have been the best person to understand that the votes he got are very precious. What he could have done is to repay Nigerians with basic infrastructures: Roads, electricity, health care, education and booming economy, but he didn't do anything. Rather, the APC began to decimate itself and some of its members. Saraki, whether he was guilty or not guilty, the President just excluded everybody.
Then, at the late stage, they now say 'okay, come'. You think those guys are fools? After three years, you did not call us. Look at Asiwaju Bola Tinubu, the defectors don't want to be like him. Tinubu is trapped and stranded. Tinubu was the man who single-handedly made Buhari President. Buhari had been winning in the North even in all the previous three elections. His problem was not winning in the North. His problem was who will take him across the bridge. Tinubu did and he won, but the first person to be sacrificed was Tinubu himself. He was cast out. If I am in the APC looking at you for three years and you call me at this stage, I will not come. To go back is to help Buhari come back. From the Tinubu example and I am sure he is not happy in Buordillon, he would say, 'ah, once I use these ones, discard them'. That is why the opposition parties are being populated. It is simple to understand why they are moving.
What do you make of the drama that preceded the National Assembly defections; that is, the siege to the residences of Senate President Saraki and his deputy, Ekweremadu? Some people think what happened signals that our democracy is in danger. What do you think?
That signals that our democracy is in big danger. Look at the killings in the North, the herders and farmers' conflict without appropriate response from government. They were killing people and nothing happened. Then they extended it to leading figures, now threatening to arrest the leaders of the National Assembly. The way I interpret it is that if they had taken Saraki and Ekweremadu, the parliament couldn't have sat and the defection wouldn't have occurred. These guys are now threatened and he now exhibits the highest sense of impunity. It is dangerous. Nigeria democracy is very fragile. They police took 30,000 policemen to Ekiti for election. If they could send such number to just Ekiti election, why don't they send them to Benue and all the areas where people are being killed? This government has lost it completely. Like my wife just told me, 'This is your 40 years in policy making, opposition and human right activism. It is the right time for you to contribute the best you can to change Nigeria'.
President Buhari said he wished the defectors well in their future endeavours. Do you honestly believe the President handled the grievances of the defectors well?
The problem is that we need to ask ourselves, what kind of President do we have? I think Adams Oshiomhole defined the type of President Buhari is. He called him a father. We don't need a father to rule Nigeria. We need a President like Trump. I like Trump because, rightly or wrongly, he operates the office of President, to a great extent, with energy. President Buhari doesn't have energy. He is probably a nice man, probably a man of high integrity but to run the office of President, looking at Section 5 of the Constitution, he can't be a nice man. He can't be a father. It was the Chairman of the party that described him as a father. He, Oshiomhole describing him as a father was saying, 'I, as the Chairman of the APC, I will not tolerate the Ministers breaking the law. If the President tolerates it, I will not tolerate.' That defines everything for you. He allows whatever happens to happen. He has cordoned himself in Aso Rock. As a result of not having a clue, any Minister or government official is able to do what he likes: the DSS will fight EFCC. How can two executive bodies under a President fight each other and the President has done nothing about it? Mrs. Kemi Adeosun has a case of whether she forged or did not forge, nothing happened. It is a crazy government. President Buhari has completely lost touch. I must emphasize, I think he is a good man but goodness doesn't run the Presidents of Nigeria. We need a change.
Meaning the situation was not well handled?
It is clear the President is not on top of anything. It is very clear. Not everybody below will have the President's type of mature temperament. Maybe if the President was fully on board, he will handle things in a different way. But he leaves things to his aides who are boiling hot. If those around the President can't raise a finger to tell him what is wrong, what this means is that he is trapped by what I call the cabal, and he can't come out of the entrapment. So the cabal now has only one interest – to exercise their personal control over the Presidency. That is very dangerous. They don't allow the President to know what is happening. Does the President know that Apapa Road is like this? If he knows, he might do something. The Vice President came and flew around in helicopter about a year ago and that's all. Yet Apapa produces about 2 trillion naira every year from the maritime sector. I say what kind of country is this? This is a place that if the President understood what Apapa does for the country, he would issue an executive order within four months to fix all the roads. It can only take about 50 to 60 billion to do. But he is not interested. He is not also interested in how Boko Haram works because he is too aloof. He gives instructions and nobody carries them out. He said so when he gave instruction to the Inspector General of Police, he didn't do it. His government is so casual. We don't run government that way.
What then is your honest view of the Buhari administration?
It is poor. It is not just me but the impression of most people. If you go to the social media, everybody is sad that this is potentially the worst government ever. And it throws back to Buhari's first coming. He has always been an aloof person. When he first came, Tunde Idiagbon ran Nigeria. When he went to the Petroleum Trust Fund, PTF, the same thing happened. He doesn't like to get involved in usual daily work. He just sits back, which is good if you have people you can trust. But he doesn't have such people. He should review his own career.
When he loses power in 2019, I want him to say, 'let me reflect on issues, going back to 1983, why did I lose? Because when things became so bad, General Babangida and co did a coup. They must have initially thought I will be the one to deliver. But when they now found out that I wasn't doing anything; that I was just sitting back at Dodan Barracks, they removed me'. It is a reflection. When he said he was coming back to power, I didn't support it, because I knew who he was. He hates the media, doesn't tolerate the opposition. What he did in '83 is exactly what he is doing now. In '83, a coup removed him; in 2019, the people should remove him.
So much has been said about the suspected herdsmen killings in some parts of Nigeria and the government's effort to stop them. How do you rate government's response to the insecurity challenge? Where do you stand on state police and restructuring?
Very poor! The heavy toll of casualties, whether it is Benue, Taraba or Plateau, the response has been poor. If these killings occurred because the police or the army suddenly disappeared from where they were posted, then something is wrong. I stand for a critical examination of what we did to rebalance the federation. I wouldn't just say because the herdsmen and the issue of killing are raging, then let there be state police. Obviously, if we take a hasty decision, it will be erroneous. We have been sitting on constitutional amendment for about six years or so, suddenly, they are politically motivated to push state police. I don't support what they are doing. I support an intellectual engagement of why do we want to change the Nigerian federation, not just a fire brigade approach? It must be something done in context. Contextually, the Nigerian federation is of the high pyramid with big 'Oga' at the top who determines everything. State police is not the issue.
State police is just the cankerworm in an issue of how Nigeria can be balanced. I am discussing the present situation where the President of Nigeria is practically in charge of everything. Governors can't do anything. They don't have money, power or authority. It is only one chief executive at the centre. The governor is only chief executive to the extent that the President allows him. The President can even remove him by declaring state of emergency.   Is that what we want? If we don't want such, then we have to look at the powers allocated to the President in the Constitution and say it is not good enough, that there are so many powers that the President has that shouldn't be there. For instance, the power to control marriage, registration of birth, issue a driver's license is all a local government thing and not a Federal Government affair. Without getting to the more complex issues that have to do with state police, first of all deal with issues that are obviously foolish that are in the hands of the Federal Government.
There are 98 items of power in the Constitution. Identify them. Each of them is easy to transfer to state governments immediately. They are over 15. Then, the more difficult ones will take more time. No nation amends the Constitution holistically. It takes time. Americans are now over two hundred years. I don't support this rushed approach. It should be gradual; as the problem arises, we amend the Constitution. We are now in about fourth amendment. If state police becomes an issue or liberation of powers to police, which is the main thing and not state police, so be it; in devolving power, we must ask ourselves what should be devolved. If state police will be part of it, then we do it.
In a nutshell, I didn't say state police is not necessary, but the way we achieve it must be clear and intellectually driven and not driven by anger or responding politically. What I see happening now is a response to an immediate problem. And notwithstanding the huge problem we face by the herders issue, we have to think very carefully. The question is, do we need state police or is Nigeria able to survive as it is? If we say no, we ask why, because all the powers, including that of the police, reside in the Presidency to the exclusion of governors who are redundant and contribute less to the economic development which is the reasons for the killings. If Nigeria is well developed, you can't have herdsmen coming from Kano to Lagos. Part of the problem is historical: The Almajaris, lack of education and poverty.
State police is not just the answer. There is a hunger problem and that's my point. We can take the state police issue to discuss the Nigeria problem. My submission is to demobilise power from the top. In Nigeria, we have 34 major minerals. In Ondo, we have bitumen and other things. Anambra and Enugu possess one of the largest gas deposits in Africa. Everybody is focusing on Abuja so that they can eat money from oil. Because of that single focus, we ignore what's under our feet.
The trial of a former National Security Adviser, NSA, Col. Dasuki (ret.), is one of the controversial issues this government has had to deal with. What is your perspective on the bail issue and the statement credited to the AGF that court order will not be obeyed?
The AGF for that alone should be disciplined by the Nigerian Bar Association. It is a very reckless statement to make. The AGF ought to believe in the rule of law. The statement is grievous to the legal framework of the country. It requires professional review by Nigeria Bar Association. Two, no matter what Dasuki has done, the Constitution requires him to have his right of liberty. I am not interested in Dasuki, but I am interested in rule of law, a right to personal liberty, in accordance with orders lawfully made by a judge. You cannot be held more than 24 hours by the police. But in Nigeria, the police can hold you as long as they want. If the police are harassing Saraki and Ekweremadu, senior members of the political class, you can imagine what will happen to the common man. The rule of law doesn't exist. Human rights concept is absent in government because, if it exists, I don't see how Mrs Adeosun will be sitting down as Minister of Finance saying nothing, caring less whether she is guilty or not. We have a long way to go and that's why we are falling to the pit. We need a shake-up. I just hope that with what the Nigeria Intervention Movement, NIM, is doing, Nigerians, in 2019, will vote with their brains and not because of the votes they will sell for money.
Where do you stand on the Ekiti election, which has seen even foreign observers indicting the two main parties for vote-buying, the performance of INEC and the victory of APC?
INEC did well compared to what they normally do. The problem was the vote-rigging and vote-buying. It is shameful on us to see a man riding on his principle when he ran against Fayose, I mean Fayemi, he lost, came back and now became involved in stomach infrastructure democracy. He attributed his loss to Fayose in the first time to stomach infrastructure, but has come back to part in it
Evidence is clear that APC and PDP spent billions. It is a sham, not an election. If one part of Ekiti was bribed to vote for Fayemi and another part bribed to vote for Fayose's candidate, that is not election but vote-buying. For INEC, they have the statutory power to effect change but they are challenged. All they need to do is to prosecute those involved but if it was so widespread, what can they do? Sometimes a law is breached but the remedy is political and not legal. Here, the remedy is political. The people of Ekiti would know that if they had taken N4, 000 and sacrificed their conscience, for four years, they cannot talk. I would expect them to say 'the vote we gave to Fayose, did he return the gains to us? If not, what do we do?' The solution is to change the values of the people.
What does the Ekiti election signal ahead of the 2019 polls?
On the part of Fayose, I didn't see anything. I have not been there, but, from all indication, he became arrogant and didn't pay Ekiti people back the mandate they gave him. He excluded close advisers who became disenchanted and didn't play a strong role in his campaign. That's what led Fayemi to return on stomach infrastructure too. He was also involved in massive voting-buying. The end result is that it doesn't leave Nigeria any better because if Ekiti is a forerunner of what will happen in 2019, the signal is disaster.
If they did that in just one state, then you can imagine the resources that will be involved in 2019.
Subscribe for latest Videos