OKOMU Oil Palm Company Plc has warned Environmental Rights Action/Friends of the Earth Nigeria (ERA/FoEN) to desist from spreading spurious and libellous allegations that the company has been parading an RSPO ( Roundtable on Sustainable Palm Oil) certificate which it does not possess.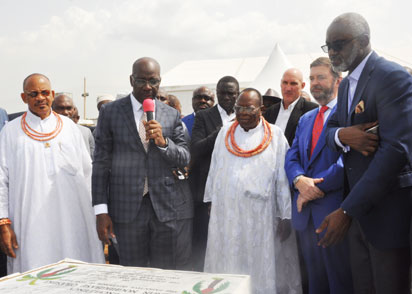 In a statement yesterday, the company said, "We categorically deny this allegation and dismiss this assertion as false, defamatory and without foundation.  Furthermore, our company tasks the NGO to immediately furnish the requisite proof that the company had been parading the said certificate or face the consequences.  It is strange that ERA/FoEN, which had originally been invited to participate as a stakeholder in the RSPO National Interpretation exercise, along with other interested and affected stakeholders in the oil palm pipeline, chose to decline the invitation, publicly stating that they were against RSPO in all its forms and calling it "false land grabbing and inhumane activities against communities," but suddenly now seemingly wanting to take an active interest in the RSPO certification scheme.
"The NGO has only embarrassed itself by confusing an ISO certification with an RSPO certificate," the company said.
"Their lack of understanding on the workings of RSPO is patently obvious in their spurious utterances, as well as their inability to comprehend the difference between ISO (International Standards Organisation) certifications from those of RSPO in their reports.  Had they remained part of the RSPO process for Nigeria, they would not have embarrassed themselves by this inaccurate and totally fictitious report as they would have been kept abreast of developments within the local RSPO community,  includes not only Okomu, but also other large scale plantation owners and smallholders who are all also preparing to become certified in the near future.
"If ERA/FoEN had done their homework,  they would also be aware that the Federal Government actually utilizes a number of protocols that are contained in RSPO and which our company has been audited on during the Ministry's usual statutory, quarterly environmental and social audits," the company said.