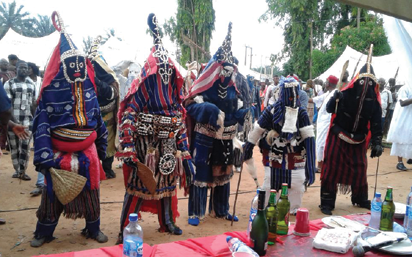 BY VINCENT UJUMADU
AWKA- THE ancient kingdom of Nri in Anaocha Local Government Area of Anambra State, believed to be the cradle of Igbo civilisation, recently celebrated the famous Agwu Festival began over 1000 years ago. Indeed, it was a sight to behold as all the villages in Nri marched into the Nri market square, venue of the event, with their glamorous masquerades accompanied by their leaders.
Although the recent Igweship tussle almost undermined the festival as there was controversy about when the moon was actually sighted for the Agwu festival to commence, the President-General of Nri People's Union, Chief Kevin Chiedozie told South-East Voice that most people in the community did not want to link the festival with the Igweship of the town.
According to Chiedozie, Agwu festival is an annual event where the people of Nri come together to show they are one, explaining that it is mainly a festival for the youths, which was why youth masquerades featured prominently during this year's festival.
Explaining the significance of the Agwu festival, Chiedozie said it usually comes as a preparatory period for harvest of crops later in the year.
He said: "When we celebrate the Igu Aro festival every February to mark the beginning of the farming season, we use the Agwu festival to invoke the spirit of our ancestors to help us make a bountiful harvest.
"During this festival, we perform some rituals to calm down frayed nerves while we expect the harvest that will begin in September. For us as a community, the festival has nothing to do with the squabble over who will become the Igwe.
"This festival is usually performed after the proclamation of the new moon because once the moon appears; we know that the period for Agwu festival has come. This year, there was controversy about when the moon was sighted. Some people claimed that the moon was not correctly sighted, but that has nothing to do with Agwu festival."