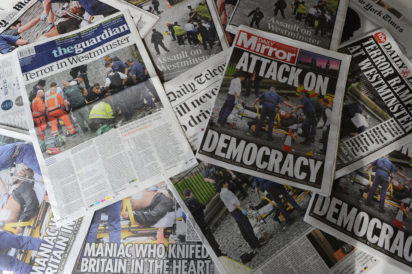 An arrangement of newspapers pictured in London on March 23, 2017, as an illustration, shows the front pages of the UK daily newspapers reporting on the March 22 terror attack that claimed at least three lives in Westminster central London. Britain's parliament reopened on Thursday with a minute's silence in a gesture of defiance a day after an attacker sowed terror in the heart of Westminster, killing three people before being shot dead. Sombre-looking lawmakers in a packed House of Commons chamber bowed their heads and police officers also marked the silence standing outside the headquarters of London's Metropolitan Police nearby. / AFP PHOTO
By Kabiru Muhammad Gwangwazo
On reading the write-up, "Why Good Journalism Truly Matters" by Adewale Kupoluyi, I found a window for RIPPLES to take a peek into a most vexatious issue that has been causing all the tensions in the land over the past decades we have been at war with each other for no identifiable and just reason. Kupoluyi said' "the media, democracy and development are tripartite partners that could drive any modern society". Note the word "could" and look at how the tripartite partners are out of sync with each other in our country.
He went on to tell the world how "these critical issues formed discussions at the just-concluded 67th General Assembly and 2018 IPI World Congress of the International Press Institute, held in Abuja for the very first time in the history of Nigeria". The Congress, he reports, was attended by some 330 participants and 65 speakers from 37 countries.
The International Press Institute (IPI) Congress under review themed, "Why Good Journalism Matters: Quality Journalism for Strong Societies", coincided with the IPI holding its flagship global press freedom event in West Africa.
My thoughts associated the review of IPI's Congress on the media, democracy and development with another gathering last Wednesday which also held in Abuja. That event was hosted by the Prof. Ango Abdullahi-led Northern Elders Forum (NEF). The NEF Pan Nigeria Summit was mainly targeted at reviewing the current confusing and alarming state of security which is obviously a Northern problem. The Igbo cultural organisation, Ohanaeze and the Afenifere were co-hosts according to the information I have from some colleagues and associates at the NEF.
Participants were Ohanaze Ndigbo, Afenifere, Pan-Niger Delta Forum (PANDEF) and North East Forum for Unity and Development, Christian Association of Nigeria (CAN), Jama'atu Nasril Islam (JNI) and New Generation Representatives (NGR). Unfortunately, though I have had cause to attend NEF Think Tank meetings I wasn't able to attend or critically review presentations. However in the media Wednesday, I read an engaging submission by Nigeria's President Emeritus, General Obasanjo.
Former PDP National Secretary, Olagunsoye Oyinlola, also a retired general presented the ex-president's letter addressed to NEF Chairman, Prof. Abdullahi as the convener of the summit. In the address Obasanjo said: "Because we do not dialogue enough, most of us live in ignorance of one another, burdened and influenced by received prejudices, biases and twisted history".
He went on to pontificate, "the time has come when we should constantly dialogue among ourselves at different levels to inform, educate and enlighten ourselves and dispel bad influences".
"A lot of misgivings, misunderstanding, misperception, misrepresentation, erroneous beliefs and outdated ideas and concepts can be cleared and a lot can be achieved. This "Dialogues Amongst Ourselves", which are starting today, must not be a once-and-for-all affair. We must dialogue often for our collective progress. "And I have no doubt that this first one will be a huge success. We are in dialogue because we are concerned for our country".
What is the connection between the NEF-initiated Dialogues meant to basically address the horrible insecurity we now face and the IPI Congress addressing Good Journalism?
The link has to do with a couple of items sent to my inbox by prolific Kano-based public affairs commentator, Abdullah Musa Abdullah. His own write-ups dwelt on the demonization of all that is Northern and Muslim, that he suggests is deliberate.
The one item titled, "DEMONICS' SHOULD BE TAUGHT IN MUSLIM NORTH'S SCHOOLS" was a bitter satire that says the only way to tackle the deliberate stereotyping and demonization of Northerners, in particular Muslims, who are at the receiving end all these decades, is for Northerner Muslims to also learn the art of Demonization, and start their own Demonization programme, as some form of Mutually Assured Deterrence (MAD) to check those "misgivings, misunderstanding, misperception, misrepresentation, erroneous beliefs and outdated ideas and concepts" that Obasanjo so aptly placed his finger on in his address at the NEF-convened Abuja summit a couple of days ago.
Said Abdullah Musa: "What is demonics?".. my understanding of 'demonising' is the act of portraying someone or an entire people or faith as demons".
Now who is principally guilty of this demonics and demonization? The media, of course. Who do they use? Or more appropriately who uses them? Who else, but the political and military elites of their tribes and regions?
In that case, do we need such a conference, summit or whatever name it goes by? What we need for an end to the poorly security situation we now have is a mutually assured deterrence on the media. Forget all the nebulous, uncensored and uncensorable social media that takes its bearing from the mainstream media while in turn it also suggests a bearing for the mainstreamers.
What we need is walking the talk from Obasanjo's kind of comments, that we have sustained dialogues. The focus of these for the North in particular is to address our internal issues. We must close the gates to our neighbours. While we have no business with what happens between the Aguleri and Umuleri when they have their skirmishes, and no way of intervening in the Ife-Modakeke issue as a region, there is no reason we should have busy bodies coming down to tell us how to tackle Fulanis and Tivs who have had centuries of relations.
A neighbour can only intervene in a neighbour's affairs only as a genuine arbiter when asked to do so by both sides of warring parties. For the North, Muslims, Christians, animists and all the sub-groups of the religions we have, it is high time we woke up to the reality that like General Buhari observed in his October 1st Independence Day Address, all parts of Nigeria need to learn the sensible Yoruba approach to issues that affect their tribe. They don't allow outsiders a chance to cause a schism between them.
Why should Afenifere, CAN or PANDEF or whoever be allowed to "poke-nose" in the North's troubles? The North shouldn't  allow the demonization of Muslims, of Fulanis, of Christians, of animists, of Tivs, Jukuns, Hausas, Biroms or whatever. The North should close its gates to outside influence and convoke a genuine internal reconciliation summit. Religion, tribe, or sect should not be an issue. We are destined to live together, whether we like it or not, much as we are so destined to live in a Nigeria we have been lumped into for now.
Though there is no doubt an underlying political motive fueling insecurity in the North, economic issues too can't be ignored. Our big men must be reined in and held to account for any further deterioration. But first we have to do like the Japanese did during the Meiji Restoration. We need to look inwards, and yet agree to learn all we can  from our neighbours.
Do they allow us to ramp up any tensions they have? No. So why do we allow them to do us in? It is time for us, the North, the whole North, to be serious if we are to get any serious benefits from a post-2019 Nigeria with or without General Buhari. After all General Buhari has been a Southern President since 2015. But for the Muhammadu and the Buhari in his name he could as well have been a Chukwu Emeka or an Obafemi Soyinka. Simply check the impact and emphasis placed by his government on zones and regions in everything. And all this has had to do with the failure of the North to get its acts together, halt the externally inspired madness here for us to get our fair share.