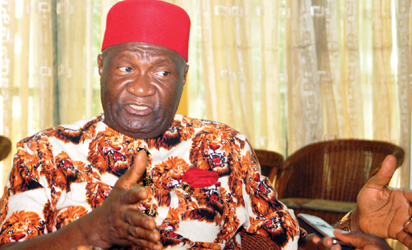 Nnia Nwodo, President-General of Ohanaeze
Attributes budget controversy to leadership failure
Speaks on killings in Nigeria, FG's ranching plans, restructuring of Nigeria
By Dennis Agbo, Enugu
Ohaneze President Nnia Nwodo, in Enugu, spoke on burning national issues. Excerpts   
Do you consider it a failure on the part of South east lawmakers at the national assembly that the 2018 budget for projects in the zone such as the 2nd  Niger Bridge and Akanu Ibiam airport were slashed on their own tables?
I see it from a completely different perspective. I see it as a failure of leadership and the way our presidential politics had been run from the time I served President Shehu Shagari as minister. The party in government must have a programme it sells to Nigerians, that programme is reflected in it's projects and once it has agreed with the party caucus about the project, and in this case it controls majority in the national assembly, the next thing is for the President to hold a meeting with his parliamentary caucus and sell the programme to his members. In our own case in Shagari's time we didn't have majority in the parliament, so we first sold the programme to our members and our members in the parliament went and sold it to our party caucus in the parliament, they then decided themselves to meet with the opposition party and the opposition members made corrections and imputes in the budget. Some of them were accepted, some we didn't accept. What we accepted we sold to our party members so that we didn't lose our party members trying to get the opposition to support us. Once we got consensus of majority of the legislators who could guarantee passage of the bill, the bill was then presented to the national assembly and once it was presented, it didn't take time to come out because they had already dealt with it informally. That's why I called it crisis of failure in leadership. If the President of Nigeria who is the leader of his party cannot agree with his party members who are in majority in the national assembly on what the form and content of his budget should be, it is a failure of leadership. Regarding the allocations in the south east, nobody has convinced me that the government made a presentation to the national assembly which was removed by a joint meeting of the two committees of the national assembly whose responsibility it is to reconcile the contradictions in the passages in both houses. What is coming out is that something happened after the presentations, which legislatively is an anomaly. It is not the procedure. So could it really be that the paper we call our budget today was passed in a manner that does not conform to the rules of the national assembly? What is clear to me is that there is a clear neglect of the south east by the federal government. There is a fundamental neglect of the south east by all concerned, to the executive and legislators who took part. The south east is not regarded as part of the national government because since the end of the civil war all these projects have been on the table, the Onitsha Bridge, the Enugu airport. When you remove them, what else are you talking about with regard to development in the south east? Why is somebody reluctant to see the growth of the Enugu Airport? Clearly, it has to do with political considerations.
Are you not worried that the national assembly constitution amendment does not reflect the real restructuring that the ethnic nationalities are talking about?
This current national assembly may not have the capacity to go through a whole gamut of restructuring. They may, if they have the will, achieve state police, create one or two states…. I believe the election will be fought on the basis of who is for or against restructuring. Right now the President of the country doesn't support restructuring, so even if you pass to him amendments necessary for restructuring, he will not assent to them and it will be difficult to secure two-third members of the national assembly. But if a new or an existing political party or an amalgamation of political party forms a coalition based on advancing the issue of restructuring, we may get there. From our public education policy from the southern and middle belt leadership forum, it is becoming clear to those in North East and North West geopolitical zones that had opposed restructuring, that it is not targeted against them. In our interface with the national assembly, their representatives spoke up that it was really in their interest and I used the example of Netherlands to prove to them that the world now is making money through new means. The world is looking at Information Technology, IT-propelled industries and agriculture. Netherlands earn over $100 billion on export earnings from dairy and agricultural vegetables whereas our oil earnings cannot attain us $100 billion a year and Netherlands is like 1/36 of Nigeria. It's less than Niger state for instance. Niger state is about 76,000 sq kilometers and Netherlands is about 26,000 sq kilometers. They build skyscraper farms, high grid farms in various levels because of the quantity of land. This country is not only looking at restructuring of the government process but different areas have peculiar talents and energy but our education is falling short of promoting the new era. If you do not acquire the skills of globalization you are finished and that is the black leg in globalization. Asia has upped its ante in terms of IT education and IT-propelled industries. Europe and America are already there, so we are the ones lagging behind because of our lack of rich curriculum and lack of education to develop that manpower to propel the manpower to a new area of educational development.
Don't you think that people's fear is that restructuring could eventually lead to self-determination?
Spain has restructured and Catalonia has not become a country. Germany has restructured through amalgamation of East and West, England has restructured and Scotland has not become a country. So, I don't understand those fears, they are unfounded in history and current political development.
Are you not aware that some states even in the south east are not convinced on restructuring, saying they don't want to be lumped together again as one?
I don't think you have read the Ohanaeze model on restructuring. It was agreed to by all in Ohanaeze. The case of Ebonyi state was tabled before an expanded executive council which included their traditional rulers and leaders of Thought, local government chairmen and they all signed it. Ebonyi and Enugu were the two states who were saying if we restructure Nigeria on the basis of regional government, we will be losing our new found freedom and independence but Ohanaeze is saying let us write a constitution amongst the Igbo as to the kind of region we want, a high measure of autonomy. Under the western model, the states have sovereignty over their natural resources; that the state take 50 percent of all they get from their natural resources and they give the region 35 percent and give the federal government 15 percent. When you go through all these, there is a meeting ground for all of them and I don't see anybody who will oppose it in the south east.
What is Ohanaeze doing to stimulate economic development within the South East using its private resource potentials while we await the restructuring?
You must not mistake Ohanaeze to be a government. We can only advise appropriately and we have a planning and strategy committee headed by Prof Chukwuma Soludo. We have just finished deliberating on the restructuring model, we are working now on the economic model and we are not depending entirely on government. We are reaching out to the private sector; the Igbo are in the private sector. The leading companies in the world are not owed by any government. Microsoft is not owed by any government; facebook is not owed by any government. So we think the future of Igboland lies virtually in propelling the private sector. We are doing a paper which will be ready very soon and we are going to have a conference of major Igbos in the private sector with a view to selling to them our model for growth and we begin to approach the government for infrastructure.
How do you feel about the continued insecurity of lives and property in the country?
The security apparatus in the country has failed. The Head state extended the tenure of service chiefs and the assumption was that they had done so well and that they should continue to be there until their plans firm up and they can choose competent successors. First of all, I am opposed to the extension. I think that as a lawyer it is illegal and I hope that can be tested in our courts. The civil service is run by law, the law establishing the civil service in Nigeria has tenure for a civil servant after which you must go on retirement. I do not know anywhere in that law that it provides a room for elongation of a tenure. There are some amendments in some states and some establishments making provisions for contract employment especially in the universities and they get less pay than they did while they were running their tenure but I do not hear that a civil servant who has reached the age of retirement is asked to continue in the office contrary to the law. In my view it is illegal and I am surprised that nobody in the national assembly has questioned it and nobody in the civil societies has questioned it. Secondly, he has breached the provisions of the constitution on national character. It gives the impression that loyalty to the head of state is a function of where you come from and therefore must determine who is a commander of any of the armed forces. It's a misnomer. It runs counter to the necessity to build a united country which the President must be an embodiment. This country has never been as divided as it is today; the President's appointments remind people of where they come from, it has negated every advantage we have acquired over the years in terms of building a united country. Why is it that everywhere herdsmen have killed and murdered people in numbers the police arrive only later? The whole essence of security is prevention and not management after crime has been committed. An effective security must prevent a crime from occurring. We look at all the social media awash with pictures of Fulani herdsmen with AK47 riffles, their faces are there and nobody has arrested any one of them, those arrested are not prosecuted. You get the impression that this is a religious war. What on earth justifies herdsmen entering into a catholic church in Benue state while the Mass was on and murdering two priests, parishioners and members of the choir and turning round to wear the uniform of the choir members to make songs and make caricature of them with their faces showing and trending in every social media and the entire Nigeria security system is unable to arrest any of them? Does it tell you that these are media inspired? When did Ghaddafi die, how many tears ago? What effective measures were taken to check arms being moved into the country? How have we made our boarders secure as to ensure that these people did not come, our boarders are the most porous. Evidence from Kano indicates that a number of people who are not Nigerians are coming into Nigeria now to register for our next election. INEC has done an administrative inquiry, fine, but in law you cannot be a judge in your own case.
Do you think it's possible to have a Nigerian President of Northern extraction that could implement these aspects of restructuring?
Restructuring has ceased to be the views of one section of the country. There are northerners in middle belt who believe in restructuring. There are northerners who are not in the middle belt who believe in restructuring, people like former vice President Atiku Abubakar who believe in restructuring, like former President Ibrahim Babaginda. Restructuring is not a sectional ideology; it is the only way to give birth to a productive, united and more prosperous country. Without it Nigeria is stillborn. Do you realise that what we still pay as interest for loans of nearly $20billion external loan is more than what we generate as taxation? We pay 40 percent of our GDP in retirement of our external loan and it is at a growing trend. One expects that the political rhetoric, as we go into an election, should be telling us how do we get out of it and that is why we say restructuring is the only way to get out. Restructuring takes our energy back to the productive units in smaller concentrations and independence to make decision which are all in the province of the federal government. We have an amorphous federal government.
What is Ohanaeze's view on federal government's allocation in 2018 budget for ranching of cows?
First of all, here again is what I think characterizes the President's idea about ruling Nigeria. Look, Igbos are the major transporters in Nigeria, what has the government done to create parks for Igbos, to make the roads motorable for their vehicles that go up and down Nigeria carrying passengers. If you look at the luxurious buses in Nigeria more than 60 percent of them are owned by the Igbo, what has been done to enable that business thrive? And you are talking about the movement of goods and services which are critical for production? But government is investing this amount of money in growing private business of people who want to grow cows. What are they doing for people who want to grow chicken, people who have fish ponds? Why must public funds be used to grow ranches for cattle rearers? I think it is fundamentally wrong. Government can guarantee loans from private banks for them in the same way they guarantee for other agricultural enterprises. It's the height of nepotism, knowing that this is a trade undertaking mainly by a certain part of the country. If you look at the size of grazing fields they want, they come to nearly more than 40 kilometers of land and what is the cross sectional area of Ebonyi state for instance or Enugu state and in any case, has the federal government any power under our law to acquire any land in a state? No! Under the land use act, which is part of our constitution, land vests with the Governor of a state. Governors have said no ranching in their states. That provision is stillborn, I mean you make allocation and the people you make it for said they don't want. It's an explosive ethnic bomb that will inflame passion in a manner that government may not like. It seems to me to be an attempt to catapult the skirmishes in the Middle Belt to every part of the country because every area you want to take land for ranching the people may resist it. And so there will be war fronts in all the areas of Nigeria not yet contaminated by this carnage going-on.