By Victor Ahiuma-Young
NIGERIA Labour Congress, NLC, has rejected the recent 500 per cent increase in tariff on locally produced alcohol, spirits and tobacco, saying it will lead to massive job loss.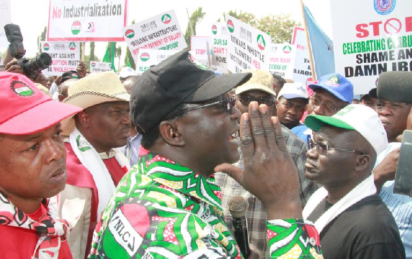 This came as the National Union of Food Beverage and Tobacco Employees, NUFBTE, said the 500% hike in exercise duty of these products had placed no fewer than 200,000 jobs in the sector under threat.
NLC in the petition to Minister of Finance, Mrs Kemi Adeosu, which was copied Chief of Staff to President Muhammadu Buhari and Director General of Department of State Services, DSS, warned that beside the looming job losses occasioned by the hike, many of the affected companies might decide to relocate to other friendlier neighbouring countries, citing Dunlop and Michelin as examples.
In the petition by its President, Comrade Ayuba Wabba, NLC said:  "This astronomical increase in tariff will lead to the following effects, according to industry key players: The policy would lead to huge price disparity between locally produced alcohol, tobacco and spirit and the ones produced outside Nigeria or imported.
''It will also increase the cost of production and reduce profit margin. It will also lead to the closure and possible relocation of those industries to neighbouring countries within West Africa.
"We also wish to draw the attention of the minister to the threat that the current hike in tariff on locally produced alcohol and tobacco poses to Nigeria's position as the choice investment destination in the food and tobacco industry in Africa.
''Currently, British American Tobacco Company, BATC, has its largest manufacturing concerns in Nigeria and actually services other markets in the sub-region from Nigeria.
"The leadership of our union in the sector, NUFBTE, has been informed by manufacturers in the sector that they are seriously considering moving their businesses elsewhere if government goes ahead with the current hike in tariffs."
200,000 jobs under threat, NUFBTE alleges
Meanwhile, NUFBTE has pleaded with Minister of Labour and Employment to implore President Buhari to reverse the hike, lamenting that over 200,000 workers might lose their jobs to the hike.
The leaders of the union made the plea during a Save-Our-Soul, SOS, mission to the minister.
Leader of the delegation and acting General-Secretary of the union, Comrade Mike Olarenwaju, while cataloguing the plight of the union, said the 500 per cent tariff increase by the Ministry of Finance on their products was counter-productive as the measure would lead to the collapse of the sector.
"It will kill investments, it is already creating palpable fear in the operators, job losses are looming, while imported products will displace local goods for reasons of smuggling and cheapness," he said.
Subscribe for latest Videos