* as Vsonet partners UK to boost education system in Nigeria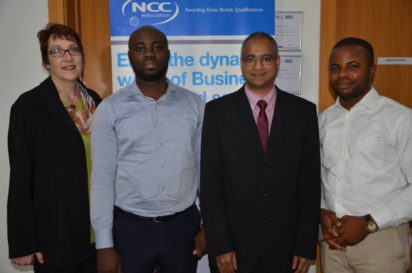 By Evelyn Usman
A director, at Vsonet Education, an Information Technology Education firm, Patrick Efagwu, has advised students to build their career on Information Technology related courses, if the clamour for youths to take over leadership of the country must become a reality.
Speaking at the 2018 Higher Education seminar in Lagos, jointly organised by his international partners : NCC Education , a global provider of British education, Efagwu, explained that the advise became necessary owing to the importance Information Technology played, across the globe.
He however, asserted that for Nigerian students to measure up with their counterparts worldwide, there was need to expose them to a corresponding global educational approach with competent teachers.
To achieve this purpose, Ofagwu informed that his firm which is also the promoter of NCC education in Nigeria , came up with modalities on how students could acquire degree progammes in Information Technology, with global standard, that would prepare them ahead of he task.
He said :" There have been situations where most times, for us to acquire certain level of information technology, people always have to go offshore to acquire this skills, which cost a lot of money.
"But over time, we have attain a certain level of competence that makes it possible for us to deliver this programs locally. We have a very high standard because we have a vision to stand side by side with the global world.
" Our mission is to coach a new world, to give a new meaning to technology and technology education, to create value as well as to make positive difference. Our vision is embedded in our people, the partners we work with and our approach in delivering the best. We want to establish a new standard in the quality of education and hopefully through unparalleled learning approach, driven by adoption of highest learning standard. Our curriculum is not just global but modern. We go about doing research to understand what is in vogue, what are the industries looking at in terms of what they expect.
" One significant benefit is that NCC provides a standard set of teaching and learning material to students. The fact that same education takes place in about 50 different countries, means that the task of making sure that everyone gets the same learning experience may be quite difficult.
"But careful guidance on a particular module has been provided, as each module comes with the materials for teachers, students and power point slides in every topic. This ensures standardization in what students are taught in every country.
" There are about 70 different articulations NCC has with the range of universities in the UK and some of them are fairly high ranked university . The reason why we have so much articulation is because the university trust the students who take any of our qualifications, whether in the international foundation Diploma which starts off right at the onset or it's a level four qualification", he stated.
Also speaking, NCC Director for Africa and Middle East, Roger Chetty, who emphasised on the need for quality education in Nigeria , advised that students should be guided more on how to choose courses that would not only enable get employment but also make them become entrepreneurs.
According to him : " In Africa as a continent, young people should see themselves as change makers and entrepreneur. It is important for students to have a goal in mind when considering courses to study. They should aspire to make a difference on the global scale,. That is why we at NCC are partnering with Vsonet to give Nigerian students this lifetime opportunity".
On her part, Business Development Manager, NCC Education, Marcelle Due Rand, while reeling out courses that qualify students for the categories of degree programmes, noted that students who did not offer sciences in secondary but aspire to key into NCC education , have opportunity of undergoing a short term introductory course that would qualify them for admission.
Noted that NCC education had carved a notch for itself having been in existence for six decades, she said, " our aim is to maximise the learning potentials of every student and also exposed them to a wide range of of contemporary issues".