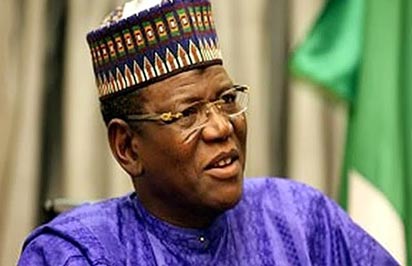 Sule Lamido
By AbdulSalam Muhammad
*Sule Lamido
KANO- Former Governor of Jigawa state and presidential aspirant under the Peoples Democratic Party (PDP), Alhaji Sule Lamido took a swipe at the security situation in the country and declared that Nigeria is under siege.
.
Lamido said "you see, today, we are under siege. It means all the key security chiefs appointed by this government have failed to deliver. Nigerians are now sleepless, they are watching, they have so many things in their minds whether to go for what they know is safety, security and prosperity or to go for this culture of violence which is now defiling Nigeria as a Country."
The presidential aspirant who hosted reporters in his Kano home further explained that "you see, before it was Boko Haram, it has now gone beyond Boko Haram. It is now inter-tribal. It is between Fulani and Fulanis; it is between Hausa and Hausas, between Igbos and Igbos. In Ebonyi it is there, in Zamfara it is there and in Sokoto, it is there."
He blamed the All Progressive Congress led administration for the failure, as he stressed that "the three factors that they used during their 2015 campaign in respect of the economy, security and fighting corruption are all zero almost three years on".
Lamido who himself is on trial for alleged corrupt practice while he served as governor of Jigawa between 2007-2015 picked hole on the leadership style of the sitting President.
He declared "how on earth can Buhari go to Danjuma Goje's house to beg him, Goje who has been arraigned in court! And Buhari preferred to go to him, by that, the Judge should be very very careful, because it means they cannot convict Goje.
"If Oshiomole after all these noise and ranting will go to Saraki and Tambuwal and beg them, after calling PDP thieves and what have you, which means their fight against corruption is defeated."
Commenting on the last week Ekiti governorship election, the Talakawa apostle declared, "the election process in Ekiti was heavily militarized; and I know it shouldn't be a surprise because we are being led by a former military General who was also a former military Head of State, with known record of brutality now arresting political leaders.
"I think the election in Ekiti, to me, if it is the wish of the people that is announced as the result, I have no quarrels with it. I hope, also, that this is not the kind of thing we are going to experience in 2019 elections because it will spell doom for democracy." Lamido said