The Muslim Students Society of Nigeria, MSSN, has appointed new National Executives.  The new Amir is Dr Taofeeq Yekinni, who took over from Muhammad Jameel as National President while Bro. Tajudeen Mustapha emerged as the new National General Secretary.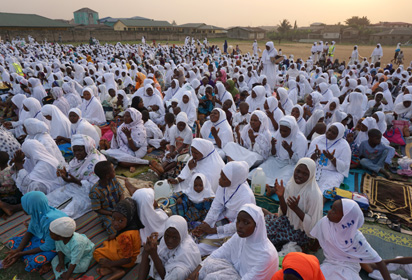 Also, Bodija Estates and Environs Muslim Community, (BEEMC) Ibadan and Obafemi Awolowo University Muslim Graduates Association (UNIFEMGA) Abuja have appointed new leaders to steer the ship of their respective associations.
BEEMC elected the crop of the new leaders who will pilot the affairs of the community at its 25 Annual General Meeting (AGM) held at its Bodija Islamic Centre in Ibadan.
Those elected were Alhaji Murisiq Siyanbade,  Chairman, Alhaji S. A Raji,  Vice Chairman, Alhaja H. A Phillips-Olawore, Secretary, Alhaja Nurat Adekunle, Assistant Secretary and Alhaja Fawziyya Tejumola as Treasurer. Others were Alhaji Abdur-Rahman Balogun, Social Secretary, Alhaja Sarat Suarau, Financial Secretary, Hajia Hafsatu Akerele, Welfare Officer, Mr Hassan Ogundimu,  Publicity Secretary,  Alhaji K. Y Adisa, Property Manager, Prof. K.K. Oloso, Chairman, Board of Religious Affairs (BORA) while Alhaji  Waheed  Alli,  Alhaji Lukman  Ogunrinde and Alhaji Abiola Odeyemi were elected as Ex – Official members.
The newly elected officers were later inaugurated by Prof Mohammad Badamas while the new Chairman promised to carry everybody along in the new dispensation.
In the same  vein, UNIFEMGA Abuja chapter appointed its new officers that will run the affairs of the association for another two years.
Those appointed were AbdulKabir Yusuf, Chairman,  Sulayman Muhammed, First Vice Chairman, Yusuf Oriyomi, Second Vice Chairman, Ahmed Atere, General Secretary and Yahya Adepoju as Assistant Secretary .Others were  Ibraheem Fagbenro, PRO,  Saheed Falola, Asst. PRO,  Abdur-Rasheed Mushefiu, Financial Secretary, Oyekanmi Muideen Olalekan, Treasurer,  AbdulFattah Bello and Saheed Salahudeen, Dawah & Assistant Dawah Coordinators.
Others Include Tajudeen Lawal, Welfare Officer,  Bushrah Oseni, Asst. Welfare Officer while  Abdul Ghaniyy Oladokun was appointed as the new Ex-officio officer. In his acceptance speech, Abdulkabir Yusuf , who expressed surprise on his emergency, thanked members for the confidence reposed in him and asked for their support in moving the association forward.