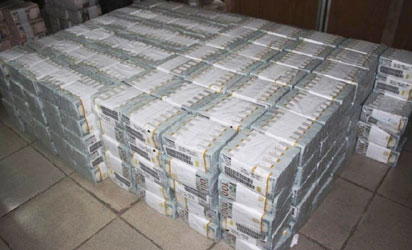 Money
The Not-Too-Young-To-Run Movement on Monday said Nigeria's democracy was not delivering its dividends adequately due to "money bag politics''.
A member of the group, Mr Hamzat Lawal, stated this to newsmen in Abuja at the National Day of Action on Youth Candidacy and Democratic Party Primaries briefing.
According to Lawal, it is quite sad that in Nigeria's political history, money bags and `god father' is really affecting the nation.
"This is why we have not enjoyed the dividends of democracy and good governance.
"As a movement, that is why we have now highlighted intended cost for picking nomination forms which is N2, 000, 000 for presidential aspirant, N1, 000, 000 for governorship aspirant and N600, 000 for senatorial aspirant.
"For house of assembly aspirant, the form should be N200, 000 while that of House of Representatives aspirant should be N400, 000.
"We need to try as much as possible to ensure that election is not all about money because we know that to the money bags, election is an investment.''
Lawal said that the money bags often put money into campaigns so that they could recuperate it after election.
He said that Not-Too-Young-To-Run Movement and youths were now aware of the money politics, adding that "we are working with women group to ensure that money does not play a critical role in 2019,'' he said.
He said that this was because if money played a role, the money bags would want to recoup their investment post 2019 and it meant therefore, that Nigerians would not have quality welfare.
Lawal said that the group would monitor closely how money would exchange hands in 2019 and warned that if it did, the people involved would be exposed.
Ms Nana Nwachukwu, another member of the group, said that the movement was optimistic about competent young men and women emerging as aspirants for the 2019 elections.
Nwachukwu said that the signing into law of the Not-Too-Young-To-Run Bill addressed a major impediment to youth participation in politics.
She said that while it was a remarkable feat, the goal of achieving increased youth representation in elective offices would remain a dream if other barriers were not removed.
She said that movement believed that the right to political participation was a constitutionally guaranteed right exercised through voting at elections or running for public office.
According to Nwachukwu, until Nigeria has independent candidacy, political parties remain the only platform to exercise this right to political participation.
She said that political parties were, therefore, essential to democracy but that the lack of internal party democracy and high cost of party nomination continually undermined the emergence of youth and women.
"We remain resolute in our belief that increased representation of young men and women and persons with disability in political office will enhance the quality of democracy and governance.
"So, Aug. 8, 2018 has been declared as the National Day of Action on Youth Candidacy and Democratic Party Primaries.
"We will be organising a march to the national and state offices of political parties to press the demands for youth inclusion.
"It is a demands march to political parties as they prepare to hold primary elections to select candidates for the 2019 general elections.
"The National Day of Action is scheduled to hold simultaneously in Abuja as well as the 36 states across the country on the same date to press for guidelines in favour of youths,'' she said.
NAN