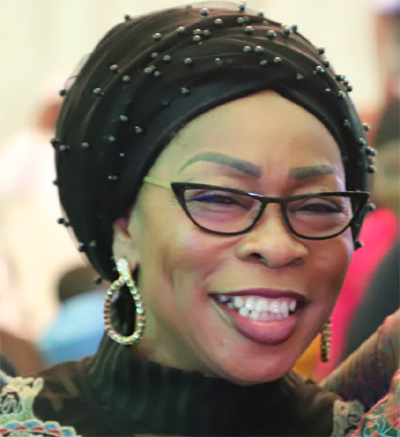 Omolola Abiola-Edewor
Lagos – Eldest daughter late Bashorun MKO Abiola,Mrs Lola Abiola-Edewor, on Saturday lauded President Muhammadu Buhari's declaration of June 12 as the new Democracy Day, saying it is justice to her father.

Edewor gave the commendation at the Fidau prayer commemorating 20 years of the death of the presumed winner of June 12, 1993, Presidential elections who died in detention on July 7,1998.
Theprayer was organised by the June 12 Movement in conjunction with the Abiola's family at the Ikeja residence of the deceased.
Edewor,a former member of the House of Representatives, said successive governments failed to accord the late business mogul and politician honour due to him by recognising what June 12 stood for in Nigeria's political history.
She commended President Buhari for his courage to give due recognition to June 12, saying the declaration would gladden her late father in his grave.
"For me and members of my family,the declaration of June 12 is justice for my late father.
"My father was cheated and maltreated and even paid the supreme prize just because of the mandate given to him by Nigerians on June 12,1993.
"Despite all, previous governments had refused to recognise his sacrifice for democracy with non-recognition.
"We are happy God has finally used this government to honour my father not only with the declaration of June 12 as Democracy Day but also the conferment of a post-humous national award on him.
"For us,this justice done is next to waking our father from his grave. We are so grateful; it is now that our father is really resting in peace," she said.
Edewor urged leaders to embrace Abiola's most salient ideology of helping the less privileged.
She advised the privileged to always remember their neighbours and impact on their lives,saying that was what Abiola stood for throughout his life.
Edewor thanked the June 12 movement and others who had stood with the family since the demise of their patriarch, saying the support had encouraged the family to move on.
In his contribution, Mr Mohammed Fawehinmi,son of late human rights activist,Chief Gani Fawehinmi, described Abiola as "an embodiment of humility and generosity" as he stood for the well being of the masses all his life.
He urged other leaders to emulate Abiola's spirit of generosity and knack for a better society by promoting some of the ideologies of the deceased.
He also commended President Buhari for declaring June 12 as Democracy Day while appealing to the Nigerian leader to pay to Abiola's family all entitlements of a duly elected president of the country.
"I commend the president for declaring June 12 to honour MKO but I will appeal to him to pay all the entitlements due to him.
"This is because if Abiola is honoured without compensation, then the honour is not complete," he maintained.
Speaking ,Mrs Beko Ransome -Kuti ,wife of late human rights activist, described Abiola as "a great politician", urging other leaders to emulate his love for the poorest of the poor in the society.
In his sermon, an Islamic cleric,Alhaji Babatunde Balogun extolled the virtues of late Abiola, urging other leaders to his good deeds while he was alive,
"It is not how long you live that matters but how much impact you made while you live.
"Everybody is talking about Abiola because of the life he lived.
"We should all endeavour to live lives that will make people remember us even when we are gone," he said.
Balogun prayed for the repose of the soul of late Abiola and also offered prayers for his family and the entire nation.
NAN reports that members of the June 12 movement laid a wreath on Abiola's grave,showering encomiums on him.
The event attracted life-time friends and associates of late Abiola as well as many members of his immediate and extended family members.
A former President of the Nigeria Bar Association,Mr Olisa Agbakoba, was among the dignitaries that graced the occasion.(NAN)