By Morenike Taire
When Emmanuel Macron, president of France celebrated his 40th  birthday, it wasn't a disco party in jeans and designer t-shirt, gyrating to old school pop music and savouring the last moments of youth, as those of that age group are won't to do. For him, youth had been over a long time ago.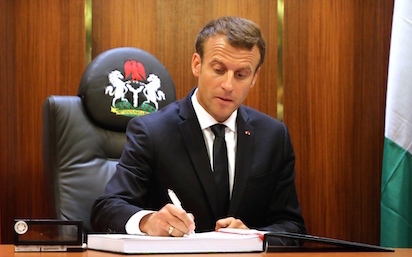 Unconventional in every way, it was not only in Nigeria that people were completely fascinated by the age difference between the young president and his significant other, the very stylish former teacher, Brigitte. Global media descended on the pair during the G7 meeting in May last year, comparing the French First Lady, then 64, very favourably with the lovely Melania, First Lady of the United States; almost outfit for outfit. The global verdict was that biological age aside, Brigitte definitely had her groove on, and she was just proof that age is nothing but a number.
And that was the end of that matter. But the ease with which the French president blended with other world leaders, many old enough to be his father (or mother), has been a trait for which he continues to be admired all over the world.
The highly controversial 40th  birthday was celebrated over a weekend at  the Chateau de Chambord, a former royal palace that dates back to the 16th century.  In their response to critics of what was termed his opulent lifestyle, his office denied media reports that the celebrations would take place inside the chateau and said the trip was being paid for by the couple.  Critics were not impressed.
If his conduct did not suggest that Macron had abandoned youthful ways a long time ago, his accomplishments certainly do. In 2010, the youngest French president ever  was appointed managing director  of Rothschild & Cie Banque and put in charge of  Nestlé's acquisition of one of Pfizer's largest subsidiaries based around baby drinks. The deal, which amounted to more than €9 billion, reportedly made Macron a millionaire.
The French president's visit to the African shrine during his recent calling on Nigeria has had more impact both globally and at home than had his visit to a thrilled president Buhari in Aso Rock.
Naturally this impact has a lot to do with the legend of the late Fela Anikulapo Kuti, and the fact that his extraordinary gifts for making music and his socio-political struggles continue to live in the hearts of people in every strata of society. But the message of Macron's visit is of even deeper significance than the celebration of Fela's legacy.
Nollywood as we know it has had unprecedented impact in shaping the image of Nigeria; how the world perceives us and how our role has been reinforced as the 'giant of Africa'. Born out of Nollywood, our music industry has grown into an entity that transcends the economy. Contemporary Nigerian actresses, Omotola, Genevieve and others are recognized even on more formal platforms such as Time magazine. Whizkid and Davido are necessarily mentioned when any documentary of global music is being written. Nigerian arts and culture have reached, at this moment, an all time high of global reckoning.
To be able to harness the gains of that for the good of the nation at large rather than for only a few individuals, is probably the most urgent political challenge confronting us today.
Clearly, the French president understands this. Despite all the criticism from the political left of France who had dabbed him the "President of the Rich", Macron had insisted on celebrating his 40th  birthday at a UNESCO World Heritage Site. He understands that when you put politics and culture on two sides of a scale, culture will outweigh politics, for the simple reason that all through history, the factor which has had the most influence of politics is the popular culture.
This was what Goodluck Jonathan had tried to harness, in its most bastardized and abused form, in the lead up to the 2015 elections by procuring the leadership of the Actors' Guild in his campaign efforts.
Macron is here for the good of his own country- what kind of president would he be otherwise? This his visit can nevertheless serve as a cultural reawakening for Nigeria, not for jamboree or even economic purposes but for a national reset.
We are coming to the end of democracy as we know it, but are we paying attention to the alternatives?