*My graduate children are still jobless, another is a school drop-out
Thirteen years ago, two Nigerians in their prime died in an auto crash at Potiskum, on their way to Abuja after a rally against deregulation of the downstream sector of the petroleum sector at Maiduguri, organised by the Labour Civil Society Coalition (LASCO). The rally was part of a series of zonal rallies to mobilise working people against the anti-poor neoliberal policies of the Nigerian state which had started in Lagos.
Tunji Oyeleru, Vanguard's Deputy Photo Editor was one of the two. He was 46years old and left behind his wife, Mrs Grace Oyeleru and four children.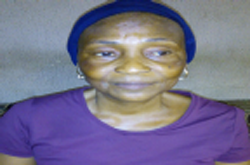 His first two children have graduated from the university but are currently unemployed. His wife is a shadow of herself. Another child is a school drop-out because she couldn't afford to pay for the continuation of his Polytechnic education while the fourth still struggles with admission.
When Vanguard visited her recently, Mrs Oyeleru lamented that life has indeed dealt with her but all the same, she was happy to be alive and happy that God has kept her  children.
Cushion the effect
"I thank God and those kind people that have been taking care of us. I thank Vanguard and the Nigeria Labour Congress who did all they could to cushion the effect of the pain. I appreciate them for what they have done but since then, it is the grace of God that kept me and my kids. I thank God that I am still alive, because what will I be saying? Is it my children's school fees? One of my children has dropped out from the Polytechnic because there is no money to continue to pay the school fees. Two have already graduated by God's grace. One read Accounting and the other is in a Physiology field but the two are still jobless. It was people that helped me train those ones.
"My third child has dropped out of school and is learning tailoring currently. One thing about the university is not just the tuition. There are other things: text books, hand-outs, feeding, clothing and other dues, even transportation.
"I struggled to see the children through school and the third one had to drop out because I couldn't continue. I have no job and I have no business I am doing now. The state of things in the country, the economy killed everything I tried to do. I am jobless, my two university graduates are jobless, the one in the polytechnic has dropped out and the last is still struggling to get admission. No work for the graduates and no business for me. Things are really difficult for us now. No help from anybody.
"The initial help we got came from Lagos State government which gave us a house at Ifako Ijaiye and the Nigeria Labour Congress. Last year, my only daughter got married. She has no job to help me out. During her marriage, I wrote a letter to NLC and the president of NLC, Ayuba gave me N100,000 to support the marriage."
Reminded that the NLC and the Lagos State government reportedly gave scholarship to her children, Mrs. Oyeleru said nothing like that happened.
"There was no scholarship. I am still looking for Comrade Adams Oshiomhole because before he left NLC to become Governor of Edo State, he promised us that when he got there and settled down, he would send someone to come and pick us. That was what I heard him say and that was when I saw him last. Since then, it's been me and God. Vanguard paid my late husband's gratuity. It was Ashiwaju Bola Tinubu who was then governor of Lagos State that promised the children scholarship. We got the house he promised but not the scholarship because I didn't know how to go about it. They kept referring me from one person to the other. So, my children didn't get any scholarship uptill this moment. I can say it anywhere, nobody gave my children scholarship. I didn't know how to go about it.
"It was when I saw Chima Ubani's wife that she told me something about the scholarship and I asked her did you take it and she said yes, that she got it. I don't know the place she talked about and I didn't have the money to go about it."
So why didn't you get a written address?
"Well, she didn't write it down, she asked me to go somewhere in Iyana Ipaja, that her husband's colleagues helped her to get the scholarship."
Is she now saying her children didn't go to school on scholarship as promised her?
"Yes, my children didn't get any scholarship.Nobody gave me any scholarship for my children. Maybe, they gave it to somebody else. It was Ashiwaju Bola Tinubu that promised us a house and scholarship during his tenure as governor. We got the house but my children didn't get any scholarship, I didn't know where to go for it. But I got help from the NLC"
What did NLC do?
"NLC gave me some money. It was one of my husband's friend in Canada that called me to congratulate me, he said the NLC gave Ubani's wife N1 million and asked if I have received mine. I told him I didn't see it. I went to NLC office in Yaba and I told them my mission was to collect the help promised by NLC.
The lady I met said they did not call my name, that it was Ubani they wanted to give and not me. "So, I left, but later they called me. Somebody from Vanguard called me and said that Labour is looking for me and I went. This was about two years ago. I went back to NLC and they gave me N400,000. I collected the money and thanked them.
That was the only money I collected from NLC. The current president of NLC, Ayuba promised to do something after they gave me N400,000. The next money I got from NLC was during my daughter's wedding. It was during the preparation for her wedding that my son wrote a letter to NLC, and that was when they gave us N100,000 and the person that gave us the money said it was not from NLC as a body but from Baba Ayuba himself. That is how it has been since then. We have been looking up to God for surprises.
Struggling with education
"I have twins. Taiye is the one that dropped out of the Polytechnic and he is now learning tailoring. The other twin is struggling with education. He is not doing okay academically.
"I need help, I need help for my children to get employed because when that happens, they would be in a position to help me. My sorrow will be over. I am worried about my son finishing university and not having job. My daughter, even though she is married will help the family when she get a job and maybe then, my drop-out son can go back and finish his course in the polytechnic. I will also need something tangible for myself, a business that will help me to help myself. My son that studied Accounting needs to charter. He has always wanted that but money is a big problem for us."