By Nwafor Sunday
Following today's political scenario in Abuja, few Nigerians took to the street to protest the invasion of the residence of Senate President, Dr. Bukola Saraki and his deputy Dr. Ike Ekweremmadu by Police officers.
Those spotted were yelling in rumpus for the release and freedom of their leaders. "Leave our leaders alone, we need them", was all they were screaming.
Recall that at the early hours Tuesday, the Nigeria police that invited Saraki to appear before it by 8: am laid siege to his Abuja house. Same Police equally stormed the residence of Ekweremadu, his deputy, barricading both from movement.
Reason for this illegal invasion is yet to be revealed, but there are speculations that it was planned to stop the duo from presiding over today's plenary because of the defection of 15 senators from the  All Progressives Congress, APC to the Peoples Democratic Party, PDP.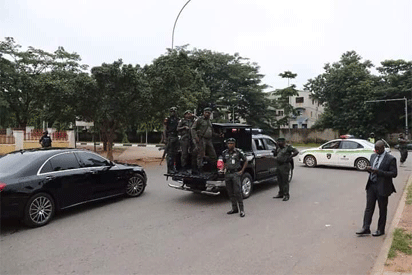 Saraki who made his way to the senate and took charge of today's plenary, condemned in its totality, the police invasion of his house. He said that it was undemocratic for Nigeria police to act that way.
His deputy, Ekweremmadu also condemned the invasion and opined that there was no prior invitation by any of the security agencies or the EFCC to him.
"This onslaught against democracy will surely fail too", he strongly said.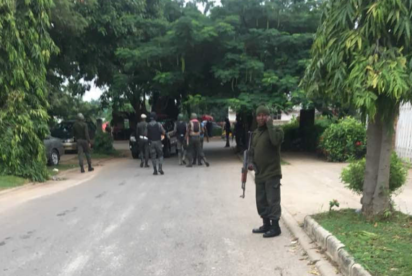 The governor of Gombe state, Ibrahim Hassan Dankwambo equally spoke via his facebook handle as he strongly condemned the invasion and called it 'tyranny'.
His words, "I condemn in it entirety the siege on the houses of the Principal officers of the National Assembly by officers and men of the Nigerian Police. The National Assembly as an arm of the government must be accorded the due respect that it deserves. This is tyranny!".
Watch the reactions of Nigerians: