Following the continued abduction of Leah Sharibu, the remaining Dapchi school girl still held captive by the terrorist Boko Haram sect for refusing to convert to Islam, number one bestselling author and former aide to Ex-President Goodluck Jonathan, Pastor Reno Omokri has released a book on the girl titled, "Leah Sharibu: The Girl Boko Haram Left Behind."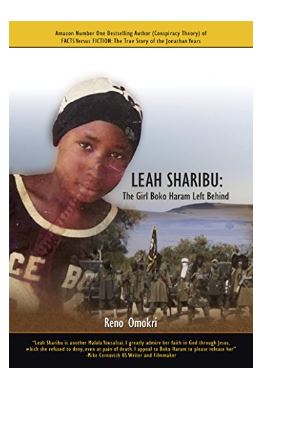 This is just as music superstar, Onyeka Onwenu, in a video appeal to President Buhari and Boko Haram, wept profusely as she called for Leah Sharibu's release.
In the video appeal, Onwenu lamented the trauma she said the girl would have been subjected to and called on all and sundry to join hands and have the girl released. #BringBackOurLeah
However, Omokri, the number one bestselling author said the book is filled with explosive revelations, backed with documentary evidence and eyewitness account and that it "exposed startling revelations about the #DapchiGirls Abduction which will no doubt cause shockwaves in Nigeria.
"‪The book revealed how strange orders were given to the military personnel guarding Dapchi to depart the town after it became known to the security forces that Boko Haram was about to target Dapchi.
The author also claimed that "the Buhari administration deliberately allowed Boko Haram abduct the girls so it could justify its demand to withdraw $1 billion from the Excess Crude Account, according to testimony provided by a serving Senator.  ‪The book comes with a heart wrenching appeal by music superstar, Onyeka Onwenu, who made a tearful appeal to Boko Haram to release Leah Sharibu."
Meanwhile, Omokri, on twitter, said the General Overseer of the Omega Fire Ministries, Apostle Johnson Suleiman, has just donated ₦1 MILLION to Leah Sharibu's family following the appeal by Pastor Omokri.
Dear Nigerians,

Please join me in thanking @APOSTLESULEMAN who has just made a generous donation of ₦1 MILLION to Leah Sharibu after my appeal in my latest book, Leah Sharibu: The Girl Boko Haram Left Behind, profits from the book go to Leah's family https://t.co/2qffLekhC2

— Reno Omokri (@renoomokri) 18 July 2018
Omokri also said that profit realized from the sale of the book would be donated to Leah Sharibu's family.
According to him, "My book, Leah Sharibu: The Girl Boko Haram Left Behind, came out today on amazon. Profits from this book go to the family of Leah, the girl who refused to be released by Boko Haram on the condition that she abandon Jesus and accept Islam. Please could you find it in you to buy this book? The revelations in it will help put pressure for Leah to be released."
Watch video below: