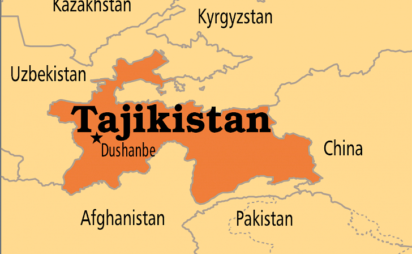 The Islamic State group on Tuesday released a video showing what it said was a pledge of allegiance by the five men accused of murdering European and American tourists in Tajikistan.
An armed gang attacked a group of seven foreign cyclists, killing four and injuring two, on a popular biking route in the south of the impoverished ex-Soviet nation on Sunday.
The incident was first reported as a hit-and-run road accident but later claimed by Islamic State jihadists.
Tajik authorities however say the attack was carried out by a banned Islamist opposition party with the backing of rival Iran.
The video released by IS on Tuesday shows five men, who resemble pictures of the suspects put out by Tajik police, sitting by a tree in front of a jihadist flag.
The clip shows them swearing allegiance to Abu Bakr al-Baghdadi, the group's leader.
Tajikistan released pictures of four of the suspects after they were killed by police while resisting arrest. A 33-year-old man resembling the fifth participant in the video has been detained.
A further three suspects were also being held, police said.
The victims — two Americans, one Swiss citizen and one Dutch citizen — were killed after being struck by a car and attacked as they cycled a road off the Pamir Highway — a popular tourist route with spectacular views.
Two other foreigners were injured in the attack in Danghara district, about 100 kilometres (60 miles) from the capital Dushanbe. A French citizen survived unscathed.
Tajik authorities had declared 2018 "a year of tourism".
– 'Baseless allegations' –
Tajikistan brushed off the earlier claim of responsibility by the IS group, saying the leader of the attackers was Hussein Abdusamadov, an "active member" of the Islamic Renaissance Party of Tajikistan (IRPT).
He had undergone "military sabotage" training in Iran, police said Tuesday.
But a spokesman for the IRPT — which was banned in 2015 as part of a crackdown that has been criticised by the US and several rights groups — rejected the claim.
"These allegations are baseless and they are not our members," Mahmudjon Faizrahmon told AFP.
"Unfortunately, the authorities used this human and national tragedy to suppress their opponents," he said.
Tehran also denied any involvement.
"The Islamic Republic of Iran denies any link with this terrorist attack and categorically denies that there is any military base to train terrorists inside Iran," said foreign ministry spokesman Bahram Ghasemi, quoted by the Mehr news agency.
"We condemn all terrorist acts all over the world, including the recent attack on foreign tourists in Tajikistan," he said.
While majority-Muslim Iran and Tajikistan share a Persian cultural and linguistic heritage, relations between the countries have been tense.
Although Muslims in Tajikistan overwhelmingly adhere to the Sunni Islam, Shia Islam dominates in Iran, limiting religious ties between the two countries.
In 2016, a Tajik court gave life sentences to key figures in the IRPT, a group authorities have accused of plotting to overthrow the government.
Some members of the IRPT had fought government forces in the civil war in Tajikistan that lasted from 1992 to 1997.
The party's subsequent participation in domestic politics was widely viewed as a positive legacy of the peace process.
AFP