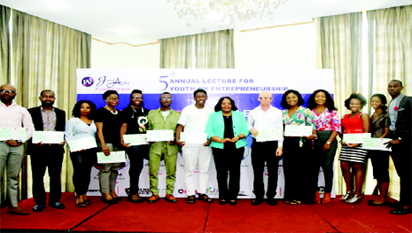 EMPOWERMENT: Mrs. Joan Agha, founder and President, Joan Agha Foundation (8th left) with the beneficiaries.
Lagos—A Non-Governmental Organisation, NGO, Joan Agha Foundation, has brought smiles to the faces of young entrepreneurs, who are determined and focused to make positive impact in their environment, irrespective of the Nigeria's dwindling economic situation with N1.1 million donation.
In her address on the occasion, the founder/President of the NGO, Mrs. Joan Agha, a philanthropist-cum human capacity builder, said the foundation was committed to giving hope to innovative and creative youths, who were business-minded and wanted to be employers of labour and not job seekers.
In her words: "It is our aim to keep doing all that is within our capacity while trying to seek for more partnership and government's support. Indeed, for the past five years that we started this foundation, we have incessantly nurtured and encouraged our youths to imbibe the culture of entrepreneurship – For this will give them self-fulfillment and happiness. It could be recalled that over the years; we have given out over N5.4 million to our enterprising youths who have distinguished themselves from the crowd. Therefore, I strongly advise today's beneficiaries to be judicious and pro-active in the use of this fund to the benefit of Nigerian economy, while maintaining business ethics and values such as; integrity sincerity, hard work and dedication."
Speakers at the event which included; Bidemi Zakariyan, CEO, LSAPR, Dr. Chioma Ayorinde, CEO, Swish Ideas,  Favour  Sunano, MD/GS, Insider Enterprises, Onyeka Akumah, co-founder, Farmcrowdy and  Sulaiman Aledeh, TV host/presenter shared their experiences while building their businesses, but admonished the beneficiaries to remain resolute, committed and be ready to face challenges.
They added that every idea conceived should be followed with passion and zeal to succeed.
On her part, Uzamat Akinbile-Yussuf, Lagos State Commissioner for Wealth Creation and Empowerment,  represented by Mrs. Taiwo Abiose, Director, Entrepreneurship Development Department of the Ministry of Employment, commended the foundation and used the opportunity to encourage youths to access Lagos State employment trust fund through their site established for entrepreneurs to access fund at five percent interest rate, noting that one could get from N250,000 to N5 million.
At the end of the event, the recipients starting from   Awa-Agwu Olanma, Akinjise Daniel and Akinjise Tolulope, Oyetunde Oyelakin, Abhade Stanley James and Asiovu Daniel.
Others are Opeyemi Adekunle, Chidozie Igweilo, Dada Olawadamilola Emmanuel, Chancey Nworka and Peace Ikponmwomba, Ebotemhe Victor and Eniobu Chidinma, Victor Okolie Alex, Hyelni Hassan got one hundred thousand naira each. They are all young entrepreneurs.
Meanwhile some of the beneficiaries, Olanma, who manages Twindigo Venture, an advert content creation and over/jingo production brand said with the fund, they can now create their studio while  Olawadamilola, Bataz world founder, a creative brand that deal with footwear, belt, leather works production expressed deep appreciation to the NGO.
The empowerment took place at Oriental Hotel, Lagos.
EMPOWERMENT: Mrs. Joan Agha, founder and President, Joan Agha Foundation (8th left) with the beneficiaries.