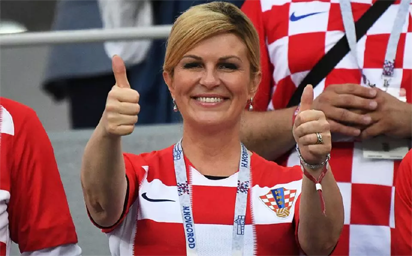 Though Nigeria supported France at the just concluded World Cup finals won by France, the bigger winner was Croatia, as her president sold the country far better than any tournament could ever have.
Croatian President Kolinda Grabar Kitarovic has been described as 'hot' and 'delectable', winning many admirers for her own performance at the World Cup finals in Moscow, where she stood in the rain at the closing ceremony, smiling and hugging every player from both teams.
Croatia lost to France 4-2 in a thrilling final on Sunday.
Grabar Kitarovic, clad in a red-and white Croatia football shirt, stood on the podium with Russian President Vladimir Putin and French President Emmanuel Macron when the medals were given to the players.
While Putin was handed an umbrella, she stood soaked but smiling in the heavy rain, clearly delighted by Croatia's showing. Aides eventually found her an umbrella.
Though heartbroken, she was graceful in defeat and made the fans more emotional, displaying great passion throughout the tournament.
This, here, is a woman who knows how to use her femininity. No wonder Croatia- thought to be an underdog- made it to the finals.