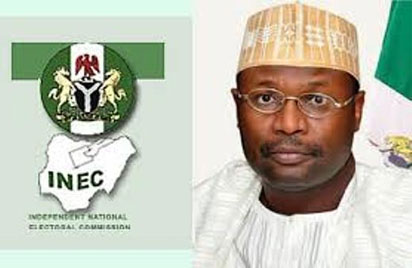 The Independent National Electoral Commission (INEC) says it will on Friday, announce the date for the conduct of bye-elections for vacant seats in the National and State Assemblies.
Chairman of INEC, Prof. Mahmood Yakubu, made this known during the commission's meeting with its Resident Electoral Commissioners (RECs) on Wednesday in Abuja.
Yakubu said that the date to be announced would be for all the bye-elections in Bauchi South and Katsina North Senatorial Districts, Lokoja/Koton Karfe Federal Constituency, Kogi and Obudu 1 State Constituency in Cross River.
The commission had on Friday announced receipt of formal notification on the vacancies in the National Assembly and State House of Assembly.
Yakubu said that the commission was already consulting with stakeholders in the affected states on the elections to fill the vacancies, which were all caused by death of the representatives.
"Consequently, the commission is set to conduct bye-elections to fill the vacancies in the four constituencies which have over two million registered voters spread across 3,355 polling units in 234 Wards and 22 local government areas.
"Consultations with stakeholders in the affected States are ongoing.
"Considering the requirement of the law that such elections shall be conducted by the commission within 30 days following the declaration of vacancy, we are planning to conduct all the four elections on the same date.
"The detailed Timetable and Schedule of activities will be released on Friday this week.
"These bye-elections will offer the commission yet another opportunity to fine-tune our processes and procedures in preparation for the Osun governorship election and ultimately the 2019 general elections,'' he said.
The chairman said that the meeting would reflect on just-concluded governorship election in Ekiti and preparations for similar exercise coming up in Osun on Sept. 22.
He reassured Nigerians that INEC would continue to improve on the quality of elections, drawing from the lessons learnt from the collective experience of conducted elections into 181 constituencies since the 2015 general elections.
These, according to him, are made up of six governorship elections, 11 Senatorial Districts, 23 Federal Constituencies, 73 State Constituencies and 68 Area Council Constituencies in the Federal Capital Territory.
Yakubu also disclosed that so far, INEC had registered 10,292,647 new voters as at July 13 under the ongoing Continuous Voters' Registration (CVR) which commenced in April, 2017.
He assured that all registered voters in the CVR to be suspended on Aug. 17, would get their PVCs before the 2019 elections.
"So far, a total of 10,292,647 Nigerians have been registered as at July 13.
" The commission has been giving periodic update to stakeholders and also publishing the detailed breakdown on our website for public information.
"Beyond the CVR, this meeting will also strategise on the issue of uncollected Permanent Voter Cards (PVCs).
"I wish to reassure all registered voters that their PVCs will be available for collection before the 2019 general elections,'' he added.
Recall that INEC recently announced 9,922,619 as the number of fresh voter registration as at June 22, 2018. (NAN)