By Gabriel Olawale
Nine-year-old Nigerian girl, Emmanuella Oziofu, has successfully developed an app and website to empower Nigerian children.
Her website, www.emmas academy.com, aims to empower young Nigerians with skills in area of coding, web development and graphic design.
Her mobile app, Emma's ICT Academy which is available on google playstore, is aimed at encouraging both fellow kids and even parents to imbibe a culture of eating healthy local and international dishes.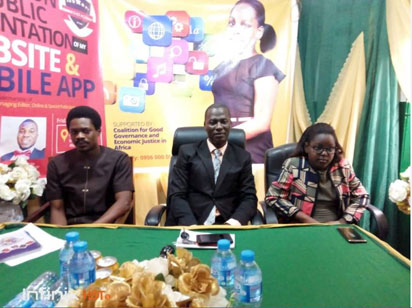 Emmanuella who is a fifth Grade student of Skycrest Schools enrolled at Mikon Institute of Information Technology, where she bagged a Certificate in Basic Training – Microsoft Word, Excel and PowerPoint and later, a Diploma in Desktop Publishing in 2016. She also has certificate in Web Design from Complete Computer Technology Institute (CCT), in 2017,
Her journey into the multi-faceted terrain of Information Communication Technology commenced when she was just seven years old, and at nine, she already has a diploma in Desktop Publishing, Advance Excel, Adobe Page Maker, Advance Power Point and Corel Draw.
In 2018, despite her routine class work she also enrolled to study Web Development and Graphic Design at NIIT.
Emmanuella went ahead to enrol for Mobile App development at Tech24 and developed her personal mobile app, as well as  designed and hosted her own website, known as Emma's ICT Academy.
She claims to have mastered operations in HTML, CSS, JavaScript, JQuery, WordPress, PHP, Mysql and Graphic Design after successfully completing online courses at SOLOLEARN, California and acquired Certificates in HTML Fundamentals Course; Certificate in PHP Tutorial Course; Certificate in CSS Fundamentals Course; Certificate in SQL Fundamentals Course; Certificate in JavaScript Tutorial Course and Certificate in JQuery Tutorial Course.
She was a pupil of Fortune Schools in Benin City, Edo State but later travelled to Lagos where she has been a student of Skycrest Schools, and has not let the fact that she was born just 9 years ago discourage her into thinking she cant achieve some feat in ICT. She already has the drive and presence of mind of an adult, effectively discovering and adequately honing her talent in web development.
The young whiz kid reveals that she would like to help teach young children about ICT and also broaden her knowledge about the field in future.
Speaking with Hi-Tech at the unveiling of her mobile app and website, she said that her passion to impact lives meaningfully informed her decision to acquire knowledge in ICT.
She said: "My target was to become a professional web designer and analyst at age nine, and I have accomplished it. I have developed over 12 websites, static and dynamic for my school. I also want to project my skills, among which is a web agency (www.emmas academy. com) to teach people how to build a website. "Another is to teach young ones how to prepare healthy Nigerian food."
Oziofu revealed that she had previously created a chat site, a personal website and had at the age of eight, created three websites for her former school, Fortune Schools in Benin, Edo.
Mr Lekan Otufodunrin, the Chairman of the occasion, said young people in the country should be given necessary support to develop their talents to put the country in a positive light.
Otufodunrin, said: "We can produce more Emmanuellas; we can support young people because they are leaders of tomorrow