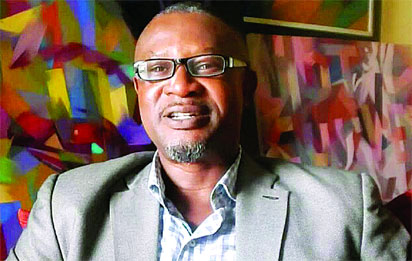 By Prisca Sam-Duru
Sam Ebohon is the President of the Guild of Professional Fine Artists of Nigeria.  As a studio artist, Ebohon graduated in 1990 with HND (Higher National Diploma) from the prestigious Yaba College of Technology. His most identifiable works feature large criss-crossing strokes that abstract the subject matter. His vibrant brushstrokes bear a particular textual flourish often found in artworks by other graduates of the Yaba School. Ebohon is a respected member of the prestigious Society of Nigerian Artists. In 2009, he was awarded the Gold Medal Prize at the Caterina de Medici painting competition in Florence, Italy. His paintings are widely represented in local and international art collections. In this exclusive interview conducted during the TKMG annual auction preview at Terra Kulture, Lagos, he reveals his ambition in the industry and much more. Excerpts.
You chose to be at TKMG auction, why?
You have to always remain relevant, do your business because art is business. One has to make money. Having a platform like TKMG helps you do all that.
First time at the Auction?
No. I've been following them.
How many works did you put up?
Just one. It's titled Response and Stimuli.
Why was this your choice?
That was the choice of TKMG. The mode of selection is that you submit a couple of works and they make their choice considering the work that goes with their theme.
When did you become an artist?
I can't even tell when. It's like…I don't even know. How do you tell someone that you know, I've never been anything more than an artist. I've always wanted to be something else but art always pulls me back.
Something else like what?
You know while growing up and your father says you've got to be a doctor or lawyer.
But professionally as an artist, it all began in 1990. That's the year I graduated and since then, it's been a long journey with group and solo exhibitions.
What inspires you?
Everything inspires me but mostly designs. I'm a design person so whatever gives me a design, it doesn't have to be a human being, it can be an inanimate object. It can be anything but that which makes a beautiful design and inspires me.
The genre you're more comfortable with?
Painting but very rarely in water colour. I still do those ones, but oils on canvass or board, that's me.
What kind of subject matter do you work on?
I'd like to be considered as somebody that talks from the heart, on general issues. You see what art does to you is that it grips you and says, look you have to paint me and you have no choice. Sometimes you start a painting and you don't even know why. It just appeals to you, you paint it and give it a title by fire by force(laughter).
The other part is when I see something that affects me either positively or negatively. There's a painting I'm working on now and it's on fuel scarcity. It actually came to me during the fuel scarcity period. It's about people suffering to buy fuel. There's chaos at the station. So that prompted me to do a series I titled: Chaos. But unfortunately for me, every time I paint, I do so with vibrant colours with strokes, and my message most times, end up getting lost out of beauty. I mean buried in the beauty of the piece. So you have viewers misinterpreting the works and giving them titles outside the message.
Why do you paint?
Just to paint. I've always done that since I was little.
The reception of upcoming artist?
The history of art in Nigeria is right now from my point of view, there's a break. By this I mean, the masters such as the Grillos, Onobrakpeyas, Oshinowos etc, those Zaria rebels who started this whole 'struggle', but in present time, we're beginning to lose the history that followed them because we have people who are probably naive about which to consider first before the other. There's a crop of people before the Grillos or Oshinowos, that is the Akandes, El Anatsui, Olaku,  they have their histories but they've locked them together. By doing that, there's no history on the progression on the Olakus and now they're mixing up the masters and upcoming artists together. This could be because the contemporary artists are exposed to auctions and international space because of Internet, they can sell works even as high as their predecessors. But let the history accommodate everyone.
Thoughts on Nigerian art?
Very vibrant. The world is focusing on Nigeria now.
Really?
Yes. The world is focusing on Nigeria as an art hub where people and creatives in the sense of art are thriving and we are happy about that. It wasn't like this before. The industry can still do better. Unfortunately, we have politicians at the helm of affairs who have no inkling of what art/ culture should be about. So having government push is almost not there. But generally, the artists and few other people have been able to push it to a good position. We have young artists selling for  millions of naira, it wasn't like that before. And those days you dare not say you want to be an artist because your father will flog hell into you.
What else should government do to promote the industry?
They should create an enabling environment by helping with sponsorship, grants and other things they can use to encourage artists. They are talking about Air Nigeria, can you imagine that the logo was brought from outside Nigeria! Meanwhile we have artists who can do that better. They should recognise that we have talents. Nigeria doesn't support its own.
Where do you see yourself 10 years from now?
I'm going to be the Minister of Arts and Culture so that I can change things. If they like, let them add Tourism. I can carry it because they all work together. There'll be serious overhauling. I will work on tourism because it's very important and its potentials are not being looked at, at the moment. Let me zoom to art. Tourists are seriously discouraged from buying art pieces since they are stressed  so much at the airport while trying to travel with the works. Why ask them to go to the National museum for written permission when you can have an office representing the museum right there at the airport? This is not helping the industry and our economy as well. In Ghana, majority of their art works are bought by tourists. This is a boost to their economy and the same can happen in Nigeria if the sector's potentials are harnessed.