20th Anniversary: AYCF, Fawehinmi demand 25yrs entitlements for MKO Abiola's family
By Olasunkanmi Akoni And Monsuru Olowoopejo
Arewa Youths Consultative Forum, AYCF and son of late human rights activist, Gani Fawehinmi, Muhammed, have demanded from President Muhammadu Buhari to pay late Chief Moshood Kashimawo Olawale Abiola's family 25 years entitlements as President, just as the family marked the 20th anniversary of his death.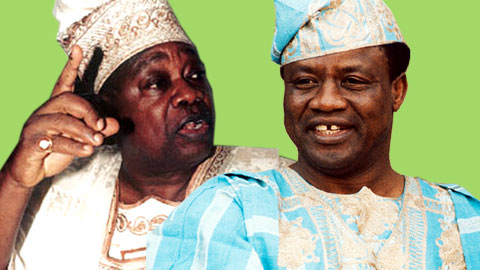 They stressed that the title of Grand Commander of the Order of the Federal Republic (GCFR) bestowed on Abiola, the acclaimed winner of the June 12, 1993 presidential election means nothing if the Federal Government fail to pay the family all necessary benefits as past President.
They spoke yesterday at the 20th remembrance anniversary organised by the Family and June 12 Movement at his residence in Opebi, Ikeja, which was attended by Publisher of Ovation, Chief Dele Momodu, Olisa Agbakoba, Nollywood actress, Rachel Oniga among others.
Also, Fawehinmi maintained that the late Abiola must be accorded all necessary benefits as President because if his election wasn not annulled by the former military President, Ibrahim Babangida he should have ruled the country.
"If he doesn't do that, this investiture is just a title. And it doesn't solve anything. For us, we have seen all he did while alive especially assisting the poor. It is our duty to also emulate him and help others as he often did.
"I know if he was allowed to rule Nigeria, issues of poverty and others that are currently affecting the country would have been solved because they were the core vision of his Presidential campaign," he added.
Representing AYCF, Audu Abubakar who described the award as well deserved and the need for payment of necessary benefits from government, saying Abiola was the only Presidential candidate that had till date received substantial number of votes from all parts of the country.
According to him, that singular achievement showed that he was for Nigeria and everyone wanted him to rule Nigeria.
.IBB must tell Nigerians the secrets why MKO was sacrificed Abiola's Aide
The Personal Assistance to Late MKO Abiola, Dr. Olawale has called on Babangida to reveal to Nigerians reasons he demanded that Abiola should contest for the poll, saying, the late philanthropist was not interested in becoming President initially, but IBB persuaded him to run.
Fashakin lamented that the former military president who was a close friend to Abiola had concluded his plans before the poll and used him to complete the plans.
He said: "Abiola asked IBB thrice before rolling out his presidential plans if he was prepared to leave and the answered received was yes. But he was not aware that IBB only wanted to safe his prestige after he and late Yar Adua and other members of Social Democratic Party, SDP, including former Vice President, Abubakar Atiku, had fallen apart."
Fashakin added that Abiola abandoned his assignment midway in Cairo after IBB called him. "So, IBB must come out to tell the world why he sacrificed Abiola for his own aim because all Abiola had earlier asked him was to allow him serve as chairman of the transition committee since he was ready to leave the office.