By Prisca Sam-Duru
Koromane Koroye, is a spoken Word artist and a writer. She is a graduate of English and Creative Writing. In this exclusive chat, she reveals more about spoken word, an aspect of poetry that is fast becoming a preference to reading. Excerpts: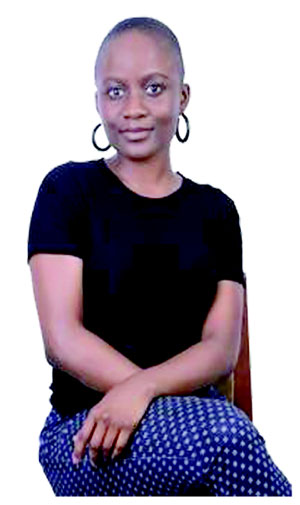 Your name sounds foreign where exactly are you from?
I'm one hundred percent Nigerian: A Niger Deltan. I was born in Nigeria and lived here for 4 years before my parents moved to Lagos. My parents are both Niger Deltans. My mom is from Delta state while my father, now late, is from Bayelsa state.
Both of them have very strong roots in their communities and so it's a little bit of Lagos and a little bit of Bayelsa State that directly affect the way I write and the way I experience the world.
You performed at an exhibition titled Unmasked, organised by SMO Contemporary Arts, is spoken word a career to you or just a hobby?
Spoken Word is my passion and my gift. You could still call it my career because it gives me money. It's beyond a hobby. It's actually a gift. Professionally, I do marketing and communications.
So when did it begin?
I ventured into Spoken Word performance at the tail end of 2002.
But spoken word wasn't known in Nigeria by then?
Yes it wasn't in Nigeria but I was in New York. In fact it has been happening for years and it's slowly growing in Nigeria.
Aside Spoken word, are you involved in other art genres?
When I used to write, I submitted my work while I was in the US. Besides poetry I also write non-fiction as well as fiction. So I am able to switch between different genres but I prefer poetry because I am able to express myself better with poetry.
Because of the fact that I can perform it, how I can move a crowd with the words that they hear. You know before now, people are used to reading but it's also good for people to listen as well.
Are you saying this is a huge advantage of spoken word?
Absolutely! I once performed a piece about my grandmother and after the performance, somebody came up to me with tears in her eyes and said I just couldn't believe it and it wasn't a particularly sad poem. It was a very honest poem about my grandmother whom I knew but couldn't converse with because she only spoke Ijaw while I spoke English.
So it was very difficult interacting with her but I still knew her as a very strong woman who grew up in the   village and that was her life. So I only saw her when we went to the village. So this American girl walks up to me after listening to the poem, she was so deeply moved by the words. So for me spoken word is the perfect way for me to express myself.
I believe spoken word allows people to know that poetry doesn't just exist in books and on paper but that it is possible for poets to take their poems out of a book, say it the way they want it to be heard. I think it's important for people to know that we want to express ourselves the way we want. We are not just satisfied with you opening a book and reading alone. Sometimes I see the performance of a poem even before I write the poem. By this I mean most often, I see myself performing a poem that is yet to be written. That's why I said it is a gift. I see the poem as a vision, and then I perform it.
Is it possible for you to forget your lines while on stage?
It happens to us. There's no poet that will tell you that they didn't forget their lines at one time or the other. I forget my lines but it's not very frequent. In the beginning when I started, I forgot my lines a lot because I was very nervous but as I kept performing. It became better and better and it's very rare now for me to forget my lines.
Is it possible that spoken word will replace poetry reading some day?
I don't think poetry reading is ever going to be replaced by spoken word because people still desire to see a poet open the book and read. Some poets still want to do that and that's something that some of us can't do because there's a performance that's inside that needs to come out. It allows me to express myself in the truest form of who I am. If you meet different people and ask them who I am some might tell you that I'm shy, some will tell you I'm very opinionated, and so on.
Was there any time you thought of quitting?
Oh yes. When I moved back here in Nigeria and I performed and people were talking and laughing over me, I felt very discouraged and I said I'm not doing this again. But there were times even in America when I performed and I said this was not good. I actually forgot my lines and I openly showed that I forgot my lines. And I remembered my coach telling me not to ever show it because people do not know what you've written so you can fill it up, repeat a line or two and get on with the performance.
So you had a coach?
Yes. It's just like a journalist being trained. You know, my coach saw me in my lowest form and said, look you are good but you can be much better than this. So you need to be trained enough to move the people listening to you. So he taught me how to raise my voice when necessary, move in certain ways and he essentially taught me how to perform without a microphone which was very difficult for me in the beginning.
How supportive have your parents been?
When I first told my parents about going to perform, they said no. Then I was young, I was actually 17 years old and in the US. So I asked for permission before anything. They didn't want me travelling around but to stay in school. It was very discouraging but my professor told me that he understands that I needed to obey my parents.
So I took a group of friends instead of going alone and one of the professors went with us. Even till now my mom doesn't understand this spoken word of a thing, she prefers that I go to the office every day. My father, who's now late, understood it and would have loved to be in the audience when I perform. He was more open minded and did a lot of public speaking.
Any future plans?
I'm going to go back to doing more of what I love doing which is writing; writing very expressive stuff that people can relate with, especially about women. You know women are very complex and beautiful creatures and I love to write about us.
I like to get to the root of women's challenges. I try to take away the frustrations that we feel because it's easy to write about anger, the husband who beat us or son who doesn't appreciate us etc. I prefer writing about what brings about the frustration. I think that as a deeply emotional person, I see what women go through and I see how men battle with who they are, who they are raised to be, and how they want to be on our side, but  can't, because they're worried about what the world would say.