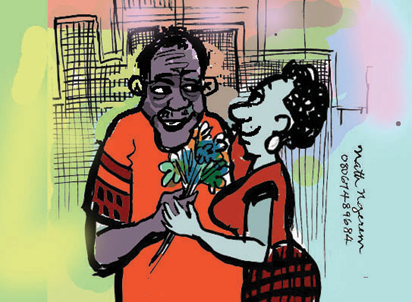 By Bunmi Sofola
IT'S a bit disheartening to know that there are some men out there who think nothing of ignoring their responsibilities. They father children knowing it would be a miracle if they could be of any benefit to such children. Such men fly from one grand business project to the other, losing money in the process and abandoning the care of the children to their hapless wives.
Some 15 years ago, Clara a widow with two children, met and got married the second time to Fatai, whose wife had simply abandoned him and their three children. "It was nice to be a whole family once again," recalled Clara who works in the marketing department of an insurance company. "Thanks to the contact I made at work, the "commissions I earned were good – better than my salary as a matter of fact. In the meantime, Fatai's latest fad, a poultry business, took a turn for the worse as he lost most of the birds to a mysterious disease. A fairly carefree man, he neglected giving the birds the necessary vaccines on a regular basis, though he would be the last to admit to his carelessness.
"Shortly after this disaster, a friend introduced him to the computer business. He actually did a sandwich repair course and later went to Britain supposedly to bring back second-hand computers that could be repaired and sold off at smashing profits. Only Fatai didn't bother to come back to Nigeria. He phoned once in a while that he was trying to earn enough to buy his precious computers, but as time went on, we didn't hear anything from him. The friend he travelled with was flustered that Fatai put him in such an embarrassing spot, but there was nothing he could do.
"I was left with my two children and his three daughters! At first, I was angry and bitter at his irresponsible behaviour, but I'd come to love his highly intelligent children and they looked up to me as the mother they didn't really know. Thanks to God we are now a close-knit family and with God's help it's only the youngest that's now at the university. Even my own two have turned out to be my pride and joy. "In all these years, we've seen Fatai only twice.
"The shame and embarrassment he felt when he looked at the thriving children he cowardly abandoned to my care was enough vindication for the hurtful way I was treated by him. One of his daughters will be getting married soon and doesn't want her father to give her away. We don't even know where he currently is. Instead, my elder brother will be doing the honour. Fatai must be kicking himself now for missing out on the joy that comes from raising a family. If he has a conscience that is' What type of a man abandons his children to a much younger second wife without bothering to send any money for their keep? Does he even think of these kid when he sleeps at night? Men like him should be castrated!"
ONKE is nobody's wife. She has never been married and don 't want to get married. She always insists that she is not a wife material. She has her hands in several businesses including ordering items on her label abroad to be sold here in the country. She lives next door to a young couple and her two kids eventually brought the two families together.
"Actually, her kids are a little bit older than mine;' explained Jemilat who is Ronke's neighbour. "But they are cute and well-behaved. Ronke is a- caring mother and her children never want for anything. Naturally, my kids like the company of Ronke's children because they have a lot of fun in their house. My husband and I aren't so lucky, wealth-wise.
"Anyway, as soon as I saw some of the things Ronke had to sell, I approached her that I would be interested in taking a few items to my office to see if I could get buyers and make some pin-money. She said she did wholesaling, but agreed to give some bit and pieces. You will be amazed at the type of money people have to buy silly things. Expensive plates, coolers, and most were sapped up cash down when I took them to the office.
"I was making good money, more than my salary and happy with it. Last year my first child was ten and we had a party for her – we could now afford to celebrate. Ronke was her generous self and gave her a big expensive cake. I was really happy during the party. I went to the kitchen to get a few things and Taju, my husband, and Ronke were conversing in the corridor. Taju playfully tweaked her nipple through her dress and she laughed mischievously. I was shocked.
"I left the kitchen without taking the things I went in there to take. I was still in shock. They never even noticed me and my first reaction was to challenge her but an inner voice called me to order when I saw the wonder in my daughter's eyes as she looked at her cake. Then, I quickly reminded myself of all the good things we have enjoyed from Ronke. So what if my husband was screwing her? It was little price to pay for all the good things she has done for us. She's a successful woman and nearing fifty. My husband is not even forty yet. Marriage for both of them is just out of the question. He is so randy anyway that he needs another woman "to satisfy him.