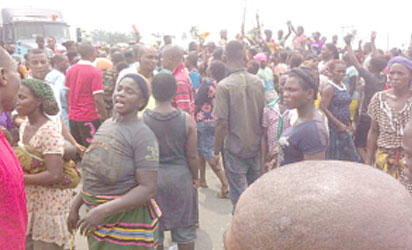 Delta Women protest rape by herdsmen
Herdsmen on rampage
By Dennis Agbo & Chimaobi Nwaiwu
THE International Society for Civil Liberties and the Rule of Law, Intersociety, yesterday alleged that killer herdsmen and Boko Haram insurgents have in the first six months of 2018, killed 1,750 Christians and other non muslims.
This came as Miyetti Allah Cattle Breeders Association of Nigeria, MACBAN, disclosed that  it has also lost over 500 of its members in Plataeau, Benue and Taraba states as a result of long drawn fued with local millitia groups in the region.
Intersociety in a statement by its Board Chairman, Comrade Emeka Umeagbalasi; Head Civil Liberties and Rule of Law, Obianuju  Joy Igboeli and Head, International Justice and Human Rights Programme,  Chinaza Ndidiamaka Bernard, said the killer herdsmen also massacered 8,800 Nigerians mostly Christians  in three years,  from June 2015 to June 2018.
"Nigeria is drifting to faith genocide through killing, maiming, burning and destruction of churches and other sacred places of worship and forceful seizure and occupation of ancestral, worshipping, farming and dwelling lands of the indigenous Christians and other indigenous religionists in Northern Nigeria.
"The situations have worsened with loss of  lives  in six months  of 2018 of no fewer than 1,750 Christians and other non Muslims to terror  herdsmen.
"No fewer than 8,800 Christians have also been targeted and killed in Nigeria in the past three years of June 2015 to June 2018.
"The Christians killed in Nigeria since then by security forces were 1,014 out of  2,265 killed; including 1,130 members of Shiite Muslim sect;  herdsmen killed 275 while Boko Haram insurgents killed over 2,450, out of no fewer than 4,000 killed. Zamfara bandist killed 80 out of no fewer than 160 killed in Kaduna State along Birnin Gwari Federal Road and its surroundings  in six months  of this year targeted at travellers and other road users.
"From our general evaluation too, no fewer than 2,360 innocent Nigerians were killed. 1,750 by herdsmen, 250 by Boko Haram and 360 by Zamfara bandits in the first six months of 2018 (Jan-June 2018). No fewer than 13,221 defenseless Nigerians also got killed by the trio as well as the security agencies  in the past three years."
1,000 burnt churches
According to the group, "the number of churches and other sacred places of worship destroyed or burnt in the past three years were not less than 1,000 and they did not include the over 13,000 burnt or destroyed by Boko Haram insurgents between 2009 and 2014 as contained in the 2015 special report of the Open Doors International Report, USA.
According to Intersociety in a statistical breakdown , "from our general evaluation of the killings by herdsmen, Benue State recorded the highest number of rural Christian and other non Muslim deaths in first six months of 2018 with no fewer than 600, followed by Plateau State with 400; Taraba 250; Nasarawa 200; Southern Kaduna 100; Adamawa 100 and Kogi State 100; totaling no fewer than 1,750 Christian and other members of non Muslim population.
"The total death toll in Plateau State following the 23rd and 24th June 2018 coordinated attacks and killings in eleven villages may most likely have hit 300, from its present 250, out of which 218 bodies have been recovered and buried in mass graves. The activists on the ground said dozens of people are still missing after the head count was carried out. Those still missing are presumed to have died. This is more so when they are not among the injured and survivors.
"The 218 recovered and buried dead bodies, according to Middle Belt activists and authorities of the Christian Association of Nigeria, CAN, included 80 recovered from Nhyer, 40 from Akwati, 34 from Ruku and 5 from Kuzen, all under Gashish District."
We  lost over 500  in Plateau, Benue, Taraba—Miyette Allah
In a related development, Miyetti-Allah Cattle Breeders Association of Nigeria, MACBAN,while lamenting the loss of 500 members also ensued for peaceful cohabitation among Nigerians. MACBAN  called on  governments at all levels and leaders of the conflicting parties in the North Central States to provide harmonious environments for lasting peace in their areas.
MACBAN chairman in south east geopolitical zone, Alhaji Gidado Siddiki, who made the disclosure in a statement in Enugu, also advocated for a "sincere synergy between the contending tribes, state governments, and security operatives in the region towards containing the awry situation."
He emphasized that in check-mating the situation, whoever is found guilty of contravening the law, however highly placed, should be made to face the consequences, adding that "it is only by so doing that the government will be seen to be responsive to its duty of providing security for the citizens of Nigeria."
Siddiki while commiserating with all the families that lost their loved ones in the ugly incidents across Nigeria however, denied the notion that the latest crisis in Plateau "is exclusively caused by   herdsmen and targeted at the Christian population alone."
He alleged that "evidences abound that the Berom militia mounted road blocks at vintage locations and molested whoever they counted an enemy, Christian or Muslim.
"From 2016 till date, our businessmen here in the south-east have lost more than 500 persons in the Plateau, Benue and Taraba crises on their way either to the north or south-east."
Siddiki however, commended three of the five governors in the South East– Ifeanyi Ugwuanyi of Enugu, Willie Obiano of Anambra and Dave Umahi of Ebonyi states, for what he said was their well-coordinated efforts to maintain peaceful co-existence between the host communities and the cattle breeders in the zone.
He   also enjoined the media to always avoid undue bias and sensationalism in their reportage of incidents involving   herdsmen, bearing in mind that every Nigerian has the constitutional and fundamental rights that should not be destroyed by either the print or electronic media.
He said: "Arm chair journalists should please desist from sensational reportage aimed at poor presentation of any section of the country. As optimists, we believe that the troubles we face today would soon be history and the normalcy that would ensure  communality amongst Nigerians would resume its course."