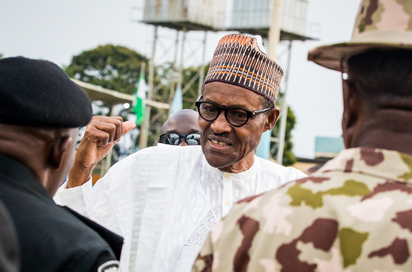 Buhari visits Plateau state to condole with families who lost members to herdsmen killings
Buhari
Heavy security was on Tuesday mounted in every corner of Ado Ekiti, as President Muhammadu Buhari led top notchers of the ruling All Progressive Congress (APC) to Ekiti for the Grand Finale of the party's mega rally for Saturday's governorship election in the state.
It was not easy for people with no direct relevance to the rally to enter the Oluyemi Kayode Stadium, venue of the rally, as thorough search and scrutiny were carried out on virtually every passer-by by security personnel.
Their activity was complemented by air surveillance by men of the Nigeria Police Force.
Many residents of the state capital ignored an earlier order by Gov. Ayo Fayose who in a statewide broadcast earlier in the day, directed them to stay at home and refuse to welcome the president.
The governor had also directed residents, especially commercial drivers and motorcyclists to withdraw their services from the roads.
The governor also ordered that public offices and major markets in the city be closed and residents to stay indoors to slight the visiting president.
As a result of the governor's order, all offices in the State Secretariat were on Tuesday closed.
Contrary to the governor's order, many commercial drivers came out to operate, while many market men and women also transacted their businesses.
However, those of them in support of the governor acted differently, as they parked their vehicles at the Government House where the governor was holding a counter rally.
Fayose said the transporters would remain indoors until 4 p.m. when the APC rally would have ended.
Normal commercial activities went on normally on Tuesday with a good number of commercial drivers and motorcyclists plying the routes.
For several hours, taxi cabs and Okada riders picked passengers at bus stops along Ikere Road, Ilawe Road, Adebayo, Old Garage, Basiri, Old Garage, Odo Ado and Oke Ila, among others.
Every minute, market women thronged the popular Oja Oba and Bisi Market, contrary to Fayose's order that the market be closed.
APC members were seen in many parts of the city trooping to the Oluyemi Kayode Stadium, venue of the rally, which ultimately became full before 12 noon.(NAN)