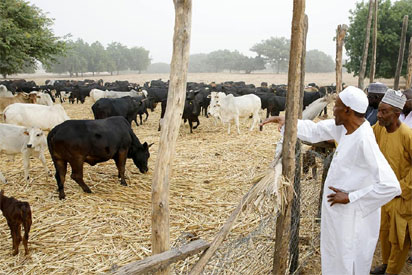 By Chioma Gabriel
THE Indigenous People of Biafra yesterday faulted South East Miyetti Allah Cattle Breeders Association of Nigeria for disagreeing with the region's governors  over ban on cattle movement in the region, saying the arrogant tone of the statement implied threat against the Igbo.
In a statement by IPOB's Media and Publicity Secretary, Emma Powerful, the group said: "We the Indigenous People of Biafra, IPOB and it's leadership worldwide view with utter contempt, the recent statement credited to the leadership of Miyetti Allah Cattle Breeders Association of Nigeria (MACBAN) over the recent commendable decision by South East governors to ban illegal movement of cattle between states in the region. The arrogant tone of their statement  implied threat  against Igbo lives and businesses in the north, points clearly to an impending hostile response from them, which IPOB is both duty and honour bound not to ignore.
"We must make it abundantly clear that any attack against Igbo lives and businesses in the north will be met with commensurate response in the south. Threats and large scale invasions of territories in the Middle-Belt may have had the effect of subduing indigenous Tiv resistance to the   hegemonic juggernaut in the Middle Belt and total collapse of morale in the West, given what happened at Ado-Ekiti PDP rally on Wednesday July 11, 2018. One inevitable outcome of any premeditated attack on Igbo people and easterners living in the north will mark the beginning of the apocalyptic end of Nigeria as we know it."
The group praised the decision of the governors saying it will avoid  breakdown of law and order in the region.
"The sensible decision of South-East governors to avoid wholesale breakdown of law and order in their region, through the banning of herdsmen activities, should be applauded by Arewa Consultative Forum, Sokoto Caliphate and all advocates of peaceful coexistence in Nigeria, not derided through the mouthpiece of  the MACBAN.
"Given that 70 per cent of Nigeria's land mass is in the north, it stands to reason  that ranching activities is better suited to the north not 'tiny' 'landlocked' South-East."