By Kabiru Muhammed Gwangwazo
There is now a very engaging and interesting discourse going on June 12 courtesy of General Buhari's surprise recognition of that watershed election that brought Nigerians together. Lest we get swamped by inanities, I believe we should first review some of the history and perspective to all that is happening now over that June 12 Democracy Day Declaration. Particularly the honor to MKO and more notably the (obviously unmerited) collateral (damage of an) honor to Kingibe.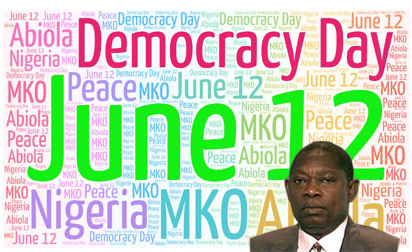 Like General Ishola Williams pointed out (on [email protected]), certainly Ambassador Babagana Kingibe doesn't deserve any honor here. He has already sold his own for a mess of whatever, as the saying goes.
May be that is what caused the "mediocre" tag given to our GMB by our progressive peoples general, Ishola Williams while reviewing the Declaration.
GMB can't be described as mediocre by any stretch of the imagination. Mediocres don't become president twice. And in his case, both times, surely not by accident. Quite unlike the many Accidental Public Servants that litter our political landscape seizing opportunities, undeserved.
What GMB has done with June 12 and MKO Abiola, our MKO (we were active in SDP as at June 12 in Kano) is an adept tactical move fit to have come from any cynical Machiavellian civilian or military politician. Even Obasanjo and IBB, renowned Masters of the Game, couldn't have done any better.
Magical rabbit of a political ploy
What's more, really GMB has little option but conjure this magical rabbit of a political ploy. The General has invested so much of his/our Government in the South and is apparently worried at what will come of his investments by 2019. They seem to be unraveling by the day. This, due to what he has done and what he has not done. Or more aptly who he has related with and who he has refused to relate with in the South West. As in other zones too. Including his home-base of the North, Kano et al.
GMB's political strategists, whoever they may be, are obviously aware they have messed up big time with his Northern base. They are pretty aware they have so misused the period of his illness to further fritter away that legendary goodwill of our GMB up-north. They know that he is the only Candidate standing so far, ONLY because none with any degree of credibility and acceptability has been minted by the North. Yet! And nothing is impossible with the North.
That is our history, our pride. Even the Yoruba Obasanjo was such a creation of the North. TY Danjuma was another. So too General Buhari himself when Obasanjo and his PDP and subsequent creations in it, had become such a dangerous cancerois sore and had to be put down. Each minted person was brought about for a season to fit the needs of the times.
Now to GMB's Machiavellian strategists. In their cynical manipulations they cooked up this great idea to checkmate the alternate elite opposition now brewing, in the South West in particular. They do know, the South is as unpredictable as quicksilver when it comes to guarantees at elections.
No matter what good you do them, as Government or Party. No matter what assurances they give you before the D-Day. And it is clear too that Tinubu and his team have been receiving all sorts of contradictory signals from the Aso Rock. As such they could be forced to rethink their relations with the Party and Government.
On the other hand still on the South West, those opposed to Tinubu outside of the APC are working round the clock to upstage him, about as much as many of his boys are or have been working to do so, from within his own APC.
So, for GMB with his massive investments in the South, generally, he has to "safe" it.
He has given the South the best Ministries. And agencies of Government. He has done all the infrastructure investments they need even when his own people up north are left high and dry, only holding the horns as it were for the South to milk the Government they gave 90 per cent of the votes to get in.
What better tool can GMB have than the frenzy of June 12 to get the South back in to line ahead of the 2019 polls?
Lest we forget, and for those who feign ignorance of the facts, June 12, was made possible by us, up-north. We voted against our own brother Bashir Tofa, from Kano, a man most of us know at the personal level to have MKO win.
We rejected Tofa, simply for ideological reasons. We were SDP. He was NRC. That is all.
With the June 12 gift, GMB is sure of the South West votes. Unless something else crops up, I expect him to get nigh a 100 per cent of the votes. Or at least an unprecedented 80/90%, especially if he woos Tinubu, the more and makes him Vice President.
That would place him (BAT) strategically at the starting block for the 2023 Presidency. That should make up for GMB's waffling with Tinubu. That it will be a Muslim/Muslim ticket and may pose trouble with Christians will be deleted by the June 12 recall of MKO/Kingibe's win now celebrated. Sounds like a cynical manipulation? That is exactly what military generals are taught at their officer training courses, I believe.
Manipulation of the human mind, to conquer, is an art of war. I am sure it must be tucked in somewhere in Sun Tsu's 'Art of War'.
What's worth noting on the Muslim-Muslim ticket is the mishandling of the propaganda from the terror all over the north by ignorant Christian politicians including many on the pulpit has backfired so massively. It is by now certain, even if GMB were to pair with His Holiness, the Pope as VP no Christian would vote him, talk less pairing with RCCG Pastor Osinbajo. On the obverse Muslim masses are more emboldened to go for GMB seeing his success with BH and a Tinubu add-on would create a Muslim evangelistic fervor that should get GMB more votes on account of such pairing to be seen as a Holy poll.
Still on Kingibe, I believe it was an ill-advised decision to honour him, simply because he is in the corridors of power. In fact that disqualifies him, in view of the political and other storms that have been flaring up since GMB got into Aso Rock.
This Kingibe GMB is honoring has serially betrayed all who lifted him up.
He started with Late General Shehu Musa Yar'adua who propped him up as National Chairman of SDP because he was part of his team when Yaradua was Deputy to Obasanjo in 1976/79. Kingibe dumped his boss shortly before the Jos SDP 1993 convention and went flat out for the Presidential ticket himself, that his boss Shehu Yaradua, had coveted and placed him as SDP chairman to facilitate.
Kingibe then allied with SDP Governors and manipulated them to rebel against their bosses, the Party dons who made it possible for them to become governors in the first place, having built the SDP from scratch as a coalition of parties denied registration by IBB. The Abubakar Rimis, the Sule Lamidos were all betrayed by their boys in Government with the active support and encouragement of Kingibe, then ostensibly doing IBB's bidding.
As a member of the Yaradua group he not only challenged Yaradua, he rubbished Atiku, Yaradua's choice for President, after Yaradua had been edged out by IBB. He also railed against Yaradua and other Progressives during the battle to choose a VP, edging Atiku out using the Governors he had primed to turn coat against their leaders.
A scenario quite like the Fasholas and Fayemis of Team Tinubu appear to have been primed for against Tinubu. Apparently with the Machiavellian twists and turns of a Kingibe style plot.
To neutralise MKO Abiola's June 12
Next, Kingibe dumped IBB too and teamed up with Abacha becoming the most senior minister manning Foreign Affairs, to neutralise MKO Abiola's June 12. Now, without the slightest shame Kingibe is the single living beneficiary of that same June 12 he worked assiduously to bury. Haba! What manner of a ghoulish politician is this? Of course, it was in his days, IBB concocted the concept of "bastard" politicians called "New Breed", the older ones who were not so outlandishly old then, anyway, called them "new greed". We now have Old Governors at 70 and a President at 75 seeking a second term at 76. Even that is not so old when we consider Mahathir of Indonesia at 92 returning to power for doing what is right by his people.
To return to Kingibe and the incongruity of the June 12 honor, when PDP came about with Obasanjo installing the temporary sickly regime of Umaru Yaradua again Kingibe resurfaced as SGF.
One would very much love to know how they fell out. The stories suggest a power-play with Kingibe manouvering to place himself about, where he'd replace sick Yaradua as President. And it is said he'd so massed powers as SGF. Late Umaru Yaradua's ill-health and his provincialism he must have exploited.
I don't know Kingibe at any close quarters. The closest I ever came to him was a day or so to the SDP/NRC Governorship Election late December 1991, when as National Chairman of SDP he came in to Kano, to presumably, broker peace between the Kurdawa (Kurdish) Yaradua faction of SDP and our (Santsi) Rimi faction. That was at Senator Aminu Inuwa's Sharada quarters residence.
He had driven in, in a Peugeot 505 with late Ahmadu Rufai who had been imposed as Deputy to Late Senator Magaji Abdullahi. We had to put up a cordon around Kingibe with Aminu Nasidi (Aminu Mai-Karfi; aka Dan-Mutuwa) of the Santsi Rimi SDP and a few respected activists to have him drive out of the residence in one piece.
But that was only after Ahmad Rufai had his spectacles smashed by a swipe from some angry activists and the windscreen of the 505 shattered into the bargain.
Our people saw the visit, a Kingibe maneuver to have our candidate Senator Aminu Inuwa, rebel against the Rimi Santsi mainstream after most of our Rimi Santsi SDP candidates for State House of Assembly elections had been removed from the ballot. And even as Rimi was in detention along with Yaradua, the SDP Rimi Santsi machine capsized the SDP boat giving NRC's Kabiru Gaya an unexpected victory.
Now, with Kingibe rumoured to be a key actor and puppeteer in our GMB's Aso Rock, it is not surprising the many political missteps we suffer in the APC. And with the GCON misplaced June 12 "honor" now given him one is worried at what will be in store for our GMB at the stage Kingibe does his thing.
And back to MKO and June 12, it is us up north who made it possible.
Yet despite the call by Rimi to have Abiola declare himself President in Kano to give the June 12 Movement the National Appeal it had acquired at that time, some Yoruba irredentists got MKO to go do so at Lagos Epetedo/Ipetedo (hope I have got the name right), reducing it to a provincial Yoruba agitation.
And what is more the use of propaganda by the cynical manipulators in khaki tipped MKO over into a tribal cry. And he was Yorubaland's generallissimo, as Are Ona Kakanfo. All northerners were considered anti June 12 by the actions of a few, such as IBB and Kingibe. Humphrey Nwosu, typical of spineless University dons and related political opportunists is not Hausa or a Northerner. Nzeribe and his ABN are not of the North either. Yet, it was the North as a whole that got labelled as anti MKO, anti June 12. Of course Kingibe was on hand to justify any abuse we got by dropping the mandate and taking his seat to eat at the Abacha table.
That is what Abacha and his friends in the army seized upon, and went ahead to cynically manipulate us as a people as only military generals can, to seize power.
Emotions of the elite
To return to the core of it all, in my view we have to accept the reality that no matter what anyone feels or says, no matter the emotions of the elite, for the masses in the South West and the South generally, Buhari's declaration of June 12 Democracy Day as pointed out here and elsewhere, has taken the steam out of Obasanjo's rantings. With his cries of wolf, he is now desperate to reclaim the political high-ground after the ground has been cut off under him unexpectedly by a fellow manipulator Military General.
The June 12 Democracy Day Declaration makes sense when June 12 and Nigerian Democracy is looked at in proper context.
For the North it is also a major triumph. It has finally rested the ghosts of that aspect of our collective history.
A Northerner (IBB) annulled that election. A northerner (Abacha), voided it irrevocably, with the considerable help of another Northerner (Kingibe).
To appease the South West a Northerner (IBB), created the ING Shonekan contraption, then manipulated another Northerner (Abdulsalami's) transition to a South Westerner (Obasanjo), who (Obasanjo) refused to honor the memory of June 12.
Now, another Northerner (Buhari) has wiped the slate clean with the Declaration and appropriate placement of Democracy Day on June 12.
These are my perspectives of June 12 and GMB's Democracy Day Declaration.
Certainly, Kingibe doesn't deserve any honor on this or any related issue. Not one bit.