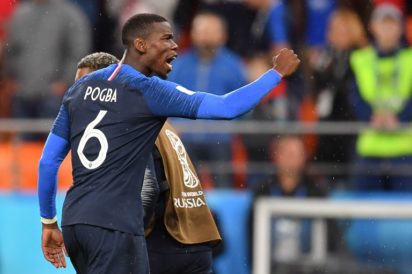 France are determined not to make the same mistakes they did two years ago in losing the Euro 2016 final when they take on Croatia for the biggest prize in football, midfielder Paul Pogba said on Thursday.
France face the Croats in the World Cup final at Moscow's Luzhniki Stadium on Sunday, but they are rejecting the favourites tag which cost them dearly two years ago, he said.
The French beat Germany in the Euro 2016 semi-final setting up an encounter in Paris against then-underdogs Portugal, who stunned them 1-0 in extra time to win the continental title.
"We are conscious of the situation, we do not want to make the same mistakes like two years ago. We want to work for it, to give everything we have to take this Cup home," Pogba told reporters.
"I think at the Euro we thought it was already a done deal, the mentality was not the same as now. I cannot lie that when we beat Germany we thought that was the final. I know the taste of losing a final. I don't want it to happen again.
"Against Portugal we thought we had won it before the start of the game. That will not happen again."
France have been improving throughout the tournament and have beat Argentina, Uruguay and Belgium in the knockout rounds without needing extra time or penalties.
Croatia needed spot kicks to advance against Denmark in the last 16 and against Russia in the quarter-finals. They then came from a goal down against England on Wednesday to win 2-1 in extra time.
That is not a sign of a struggling team, according to Pogba, but one that has a lot of talent.
"The Croats had a very difficult match and they were behind. But they are mentally very strong. There are two teams in the final, a Cup and there are 90 minutes more.
"For us, we are not the favourites. We stay as we are from the start of the tournament. We have no doubts, we play together, that's our strength. We are chasing something and will do everything to succeed."