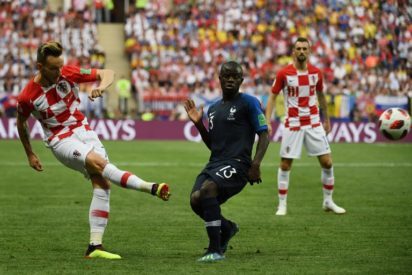 Croatia's midfielder Ivan Rakitic (L) is marked by France's midfielder N'Golo Kante (C) during the Russia 2018 World Cup final football match between France and Croatia at the Luzhniki Stadium in Moscow on July 15, 2018. / AFP PHOTO
Croatia's midfielder Ivan Rakitic (L) is marked by France's midfielder N'Golo Kante (C) during the Russia 2018 World Cup final football match between France and Croatia at the Luzhniki Stadium in Moscow on July 15, 2018. / AFP PHOTO
Croatia face France on Sunday attempting to win their first World Cup while Didier Deschamps' side are aiming to land their second title two decades on from their triumph on home soil.
France are clear favourites to triumph in Moscow's Luzhniki Stadium and will be spurred on by the bitter disappointment of losing the Euro 2016 final to Portugal in Paris.
It is a final few people anticipated when football's global showpiece kicked off in Russia four weeks ago.
Croatia have brought joy to their Balkan nation of just four million people by defying the odds to progress to the final while reigning champions Germany, then Argentina and Brazil all fell by the wayside in Russia.
They have been inspired by mercurial midfielder Luka Modric while coach Zlatko Dalic, who only took over last year with the squad in chaos, has coaxed remarkable performances from his team.
Deschamps, who captained France when they lifted the World Cup in 1998, would become only the third man to win the trophy as both a player and a manager after Franz Beckenbauer and Mario Zagallo.
His France side, spearheaded by 19-year-old forward Kylian Mbappe and the more seasoned Antoine Griezmann, are the favourites.
Paul Pogba has become a leader in midfield for France and N'Golo Kante has excelled in doing the tireless work that allows his teammates to shine, while Samuel Umtiti and Raphael Varane have become a solid defence.
Les Bleus laboured through their group, beating Australia and Peru by the odd goal and drawing with Denmark in the only goalless game of the tournament.
Then they hit form, sweeping aside Argentina in a match which announced to the world that Mbappe is set to be an international superstar as he scored twice and outshone Lionel Messi.
But apart from that 4-3 win, France have played like a Deschamps side, with the emphasis on defence.
– Street celebrations –
Spectators swarmed around the cavernous 80,000-capacity Luzhniki before kickoff with plenty of Mexican, Brazilian and Argentine fans among the festive crowd — a feature of this World Cup.
But the biggest celebrations will take place on the streets of the winning country.
Football fever has slowly built over the past four weeks as France took its young national team to heart, with ecstatic scenes on the Champs-Elysees avenue after their semi-final victory.
Giant screens have been erected in scores of fan zones across the country under exceptionally tight security, with the biggest gathering of all expected in Paris, where 90,000 will converge on a fanzone next to the Eiffel Tower.
France goalkeeper and captain Hugo Lloris said the team were aware of the rising levels of hysteria in France but said they should not underestimate Croatia.
"We will be coming up against opponents of great quality," he said. "They deserve to be in the final just as much as us.
"They have demonstrated their worth and that they have the physical and mental resources to go and win it."
Croatia have shown impressive resolve to withstand three successive matches that went to extra-time — Mario Mandzukic's winner in the 109th minute defeated England in the semi-final on Wednesday.
Dalic said on Saturday he was prepared to make changes for the final if any of his players have failed to recover from their exertions.
"Tomorrow is the World Cup final. Simply, the players know what that is," the coach said.
"One thing that brings me happiness is that all my players tell me if they are not 100 percent fit. They know what is at stake, but if they are unable to give their all they will tell us."
Ivan Perisic, who scored and set up Mandzukic's winner against England, was among five Croatian players to miss training on Friday.
"We have some minor injuries, minor problems, and I hope my players will be ready. If not, I have great players on the bench who will be raring to go."
Red-and-white chequerboard patterns are everywhere in Croatia, on car hoods, in shop windows, trams, buses as well as on jerseys worn by waiters, shop workers or TV presenters.
The last time the two nations met in a World Cup was in the 1998 semi-final when two Lilian Thuram goals sunk a Croatian side playing in their first World Cup as an independent nation.
Win or lose, this Croatia team are already national heroes for improving on the 1998 team's performance.
AFP