By Victor Ahiuma-Young
Abuja—THE Federal  Government Tuesday read a riot act to multinational oil firms and other oil companies in the nation's oil and gas sector over upsurge in unfair labour practices.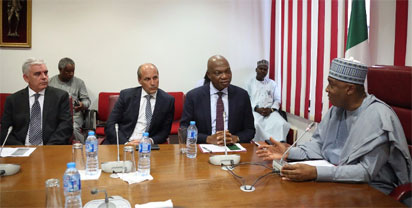 It will be recalled that Nigeria Union of Petroleum and Natural Workers, NUPENG and its Petroleum and Natural Gas Senior Staff Association of Nigeria, PENGASSAN, have continued to accuse the International Oil Companies, IOCs and other firms of perpetrating unfair labour through Labour contractors.
This came as NUPENG suspended its planned strike after it reached an understanding with the Federal Government.
Briefing in Abuja, NUPENG President, Prince Williams Akporeha said the decision to suspend the strike was reached following the reinstatement NUPENG members sacked in OES Deepsea Offshore firm in Port Harcourt.
He also called on relevant authorities to immediately convene a stakeholders' summit in the oil and gas industry to adequately address employment and industrial relations crises in the industry.
According to him, "As a matter of fact the Union might commence strike in Akwa Ibom State without further notice over the State Government's nonchalant attitude towards resolving very crucial issues affecting our members in Universal Energy Ltd, and the Frontier Nigeria Ltd."
Akporeha explained that the decision to suspend the proposed strike was also influenced by the directive given by the  House of Representatives Committee on oil and gas to the Nigeria Content Development and monitoring Board to commence immediate discussion with the Union on how to improve the lots of Nigerians with regards to job security and workers rights in the Nigerian Oil  and Gas Industry.
Meanwhile,  Speaking through the Minister of Labour and Employment, Chris Ngige, the government warned that any Labour Contractors that promoted unfair labour practices in the oil and gas sector risked having its License revoked or not renewed.
The Minister, who was addressing NUPENG's new National Administrative Council, NAC, members on a courtesy visit to him, informed that the Ministry was working on reforming the process of granting and renewing Recruiters License to Labour Contractors with the aim of ensuring adherence to expatriate quotas and eschew unfair labour practices.
According to him "I thank you for taking interest in job creation in the Oil and Gas Sector and for observing some lapses on the part of Labour Contractors licensed by the Ministry. We have started reforming the process of granting and renewing Recruiters' License and we will not grant or renew the license of recruiters who compromise by aiding and abetting "yellow dog" contracts, as any recruiters found abusing expatriate quotas will have his license revoked or not renewed.