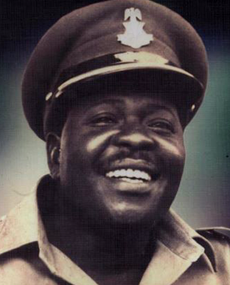 Adekunle Fajuyi
THE late military governor of the defunct Western Region, Col. Adekunle Fajuyi; the Aide-de-Camp to the late Military Head of State, Murtala Ramat Mohammed, Akintunde Akinsehinwa; late Brigadier General  Samuel Ademulegun, late Col Ralph Shodeinde and late Col. Victor Banjo have been commended for been heroic sons of the Yoruba nation in the armed forces.
They were commended for exhibiting courage, bravery and paying the supreme price for Nigeria.
Fajuyi, Akinsehinwa,  Ademulegun and  Shodeinde were among those killed during the January 15 and July 29, 1966 coup.
Banjo, who fought on the Biafran side during the 30 months civil war, was executed alongside Major Emmanuel Ifeajuna for allegedly plotting to overthrow the late Col. Emeka Ojukwu.
In a statement, Abagun  Kole Omololu said: "We honour the heroic sons of Yoruba nation in the Nigeria armed forces, who were brutally murdered by two different groups of ruthless mutineers on 15 and July 29, 1966, respectively. You were deeply courageous and you paid the supreme price for Nigeria; you did us proud."