By  Princewill Ekwujuru
Electric kettle man-ufacturers have intensified the quest to upstage one another with outburst of innovative digital features aimed at increasing product flexibility, user control and improved consumer experience. The outburst of innovations is being complemented with new marketing strategies including celebrity endorsements and  advertisements in various social media platforms.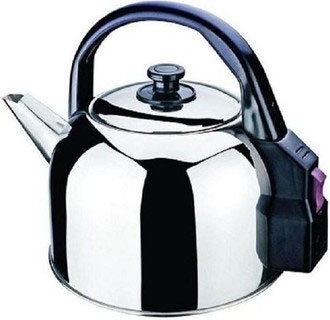 Some of the innovative features, usually referred to as advanced options, include boil dry protection; keep warm mode, lid lock, knob temperature control, immersed heating element, Wi-Fi- enabled, cordless and glass kettles.
Programmability
Some kettles can now be programmed to keep the water warm for a period of time, usually 30 minutes.
Some can be pre-programmed to heat the water at specific times of the day to ensure the water is ready for tea or coffee whenever the consumer desires.
Temperature control
Some kettles offer variable temperature controls which allow consumers to set desired temperature precisely on digital displays in degree Celsius or Fahrenheit.
Other models have pre-set temperatures incorporated in their temperature controls. These settings are generally for boiling water, green tea, hot chocolate and so on.
Some electric kettles come with heat controls clock-style knob, which allows the user choose any temperature on the scale. These kettles, however, do not show exact number in degrees.
Driving these innovations are major brands namely: Haier  Thermocool, Russell Hobbs, Frigidaire, Hamilton Beach, Kenwood, Life's Good, LG, Panasonic, Whirpool and Sony  among others.
However, the competition for market leadership can be narrowed to the following four – Haier  Thermocool, Russell Hobbs, Sony and  Hamilton Beach. The  fierce competition among them is reflected in the rapid introduction of new designs which come in different sizes and prices among other marketing strategies.
The origin
Electric kettle was invented in 1891 by Crompton and Company. Since then, they have evolved and have developed with   technological enhancement with  manufacturers developing different types and models.
As a result, the electric  kettle has become a 'must-have' device in kitchens. It offers some incredible benefits, ranging from boiling plain water, to tea and even boiling eggs.
Kettle material, benefits and dangers        Kettles are produced from three common materials. Cheaper models are made of plastic; they are also the least durable. Though cheap, electric plastic kettles may leach harmful substances into the water, according to a recent research. In some cases, plastic is a convenient material and because it is lightweight, it is good for travelling.
Plastic kettles usually have exposed heating element which may get rusty or water stones may form on its surface. For this reason, they require more maintenance than other types.
Kettles produced from stainless steel offer higher quality. Most stainless steel kettles are fitted with covered heating element. This will protect it from water damage. Most stainless steel kettles have few plastic parts embedded in them; the most common is the transparent water level scale.
The most premium kettles are made of glass. Though not completely from glass – the heating surface is made of stainless steel while the surrounding walls are from glass.
These kettles not only look good, but have many practical advantages too. The main one is that you can easily see exactly how much water it contains. The second important thing is that glass does not leach any harmful chemicals into the water.
Eventhough stainless steel kettles don't leach chemicals, they can still deposit iron into the water.
While small amount of iron is not dangerous, some people may be allergic to elemental iron or to iron oxides. This is different from the iron derived from food which is normally bound onto organic molecules. Glass kettles should ease these types of concerns.
Power, warranty and volume
Most kettles come with 1500 Watts output. This facilitates boiling   even with larger volumes of water. Some cheaper or smaller models come with less power, usually in the range of 700 to 1300 Watts. The most powerful models have 1750 Watts. With this power, the water reaches boiling point in no time.
Furthermore, most kettles come with standard one year warranty, although few offer up to three-year warranty.
Challenges
The most common kettle problem is leakage. This could be due to steam escape, water spilling from the spout or unwanted dripping.
Market segmentation
The electric kettle market is segmented on the basis of material used and type.
On the basis of material used, the electric kettle market is segmented into plastic or stainless steel. Among the segments, the plastic electric kettle is expected to grow significantly in the near future.
On the basis of type, the market is segmented into see-through (glass type) and opaque. However, the opaque electric kettle holds the major share of the market.
On the basis of distribution channel, the electric kettle market is segmented into supermarket, convenience stores and online stores. To cater to increasing demand for electric kettle, online stores in partnership with international brands offer the products with attractive prices.
Market drivers
Demand for glass, cordless and stainless steel electric kettles is increasing significantly and this is expected to drive the market in Nigeria in the next few years. Another factor driving growth is the range of newly introduced portable kettles, which makes it easy to carry them around.
Growth in the trend for virtual kitchens along with safety benefits and comfort to the users and the rise in gas prices for conventional gas kettles, are the key factors that are expected to drive the electric kettle market.
Consumers speak
Majority of the consumers that spoke to  C&M differed in their preference but said convenience was one reason they use electric kettles. They expressed preference for Haier  Thermocool, Russell Hobbs, Sony and Hamilton Beach.
According   to Adaure Njoku, a civil servant: "The basic function of electric kettles is to heat water instantly so that the boiled water can be used for making tea but one can use electric kettle to make pasta, instant noodles and oatmeal as well. Before buying or choosing the electric kettle, one must consider the important factors like auto shut off and variable temperature settings etc."
Corroborating, Amanda Adeniran, who runs a restaurant in Surulere, Lagos said people will be surprised to know that you can use electric kettle to boil pastas. I use it sometimes, may be when other items I use in my restaurant are occupied, I use it to boil pasta."
Advising, she said: "Commercial grade electric kettles are usually purchased for commercial use only due to the high performance, maximum durability, and continuous serving, etc," she stated.
Kenneth Anokwuru, a chef, says he uses the programmable kettle  type. "They are designed for busy people who want everything ready in the morning when they wake up, all they need to do is set the timer and the kettle will automatically turn on and start heating the water as per their settings."